Sweet Potato "Arancini"
Holiday 2016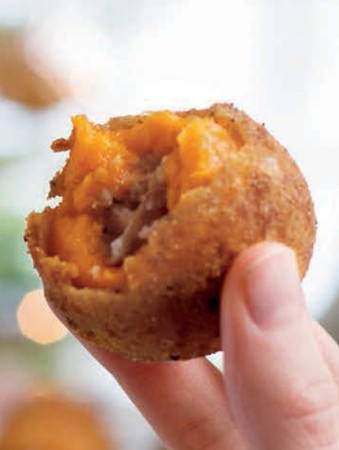 Sweet Potato "Arancini"
Holiday 2016
BY: Christopher St. Onge
Arancini are usually made of rice, but given that the word means "little oranges" in Italian it seems fitting that they should at least be orange. Stuffed with a small amount of creamy Gorgonzola, bacon and a touch of maple syrup, these sweet potato croquettes should be prepped a day or two in advance, to the point indicated in recipe, making them perfect for a midday meal.
1 medium sweet potato, about 1 lb (500 g)
¼ cup (60 mL) butter
⅓ cup plus ½ cup (80 mL plus 125 mL) all-purpose flour, divided
⅓ cup (80 mL) milk
Pinch cayenne
Salt and freshly ground black pepper
4 slices thick-cut bacon
2 oz (60 g) Gorgonzola
1 tbsp (15 mL) maple syrup
3 tbsp (45 mL) extra-smooth ricotta
2 eggs, lightly beaten
1 cup (250 mL) bread crumbs
Oil for frying
1 Place a parchment-lined baking sheet on bottom rack of oven to catch drips. Preheat to 425°F (220°C).

2 Pierce the potato in several places with a fork and place directly on middle rack; cook for 1 hour 15 minutes or until very soft. Remove to a board and cut potato down its centre to expose the flesh while still hot. Cool to room temperature, remove and discard peel. Roughly mash and set aside.

3 Melt butter in a large skillet over medium heat. Sprinkle in ⅓ cup (80 mL) flour and stir to combine. Pour milk over and stir, pressing mixture into pan with a spatula, until thickened to a heavy paste. Add sweet potato and fold mixture onto itself until smooth and uniform.
Remove from heat, stir in cayenne and season generously with salt and pepper; turn out into a bowl, cover and refrigerate until thoroughly chilled, about 3 hours.

4 Meanwhile, prepare the filling. Cook bacon until crisp using your preferred method; drain and chop. In a small bowl, mash together Gorgonzola and maple syrup. Stir in ricotta and bacon; season mixture with salt and pepper.

5 Working with a scant 2 tbsp (30 mL) sweet potato mixture at a time, roll into a ball and use your thumb to create an indent. Fill with
about 1½ tsp (7 mL) of the Gorgonzola mixture. Pinch sweet potato around to fully enclose. Repeat with remaining potato and filling (rolled croquettes may be made to this point, arranged in a single layer, covered and refrigerated for up to 2 days in advance).

6 Place eggs, remaining ½ cup (125 mL) flour, and bread crumbs each in their own small bowl; season flour and bread crumbs with salt and pepper. Working with 1 croquette at a time, coat first in egg, then flour, then egg again, and finally in bread crumbs. Continue to coat all of the croquettes.

7 Heat a 2-inch (5-cm) depth of oil in a medium saucepan over medium-high. Oil is ready when a pinch of bread crumbs bubbles immediately and remains near the surface of the oil. Fry croquettes in batches for 2 to 3 minutes or until deeply golden and hot. Remove to a paper-towel-lined baking sheet to drain. Serve while warm.
SHARE