Sweet & Spicy Turkey Breast
Spring 2014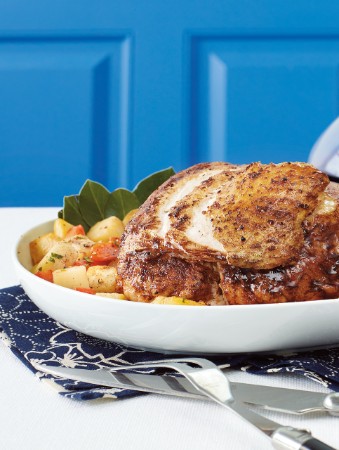 Sweet & Spicy Turkey Breast
Spring 2014
BY: Lucy Waverman
This twist on a roasted breast makes a mouthwatering main course. The dish is not too spicy, but has a superb depth of flavour. The rich sauce also takes away any dryness of the breast although I find that by using high heat first, then low, I avoid that issue with turkey breasts. The layered sauce has a multitude of flavours and is served either drizzled overtop or on the side because it is chunky.
1 tsp (5 mL) paprika
1 tsp (5 mL) cinnamon
1 tsp (5 mL) ground ginger
Pinch cayenne
Freshly ground pepper to taste
1 boned turkey breast with skin, 3 lbs (1.5 kg)
3 tbsp (45 mL) olive oil
Salt

SAUCE
2 tbsp (30 mL) olive oil
2 cups (500 mL) chopped onions
2 tsp (10 mL) chopped garlic
2 tsp (10 mL) paprika
1 tsp (5 mL) cinnamon
1 tsp (5 mL) ground ginger
Pinch cayenne pepper
½ tsp (2 mL) dried thyme
Pinch saffron, optional
1 cup (250 mL) chopped canned tomatoes with juice
1 cup (250 mL) chicken stock
3 cups (750 mL) finely sliced dinosaur kale, ribs removed
¾ cup (175 mL) prunes, quartered
2 tbsp (30 mL) chopped fresh mint
Salt and freshly ground pepper
1 Preheat oven to 400°F (200°C).

2 Combine paprika, cinnamon, ginger, cayenne and pepper. Brush turkey breast with oil. Sprinkle all sides of breast with seasonings and add salt to taste. Place in roasting pan on a rack. Place in oven and bake for 10 to 15 minutes or until skin starts to brown.

3 Reduce heat to 300°F (150°C) and roast another 1 hour to 1 hour 15 minutes or until juices run clear (the thickness of the turkey breasts determines the timing). Let sit for 10 minutes before carving.

4 Make sauce while turkey is cooking. Heat olive oil in a skillet over medium heat. Add onions and sauté for 4 minutes or until just beginning to brown. Stir in garlic, paprika, cinnamon, ground ginger, cayenne pepper, thyme and saffron. Cook 1 minute.

5 Add tomatoes, stock, kale and prunes, and bring to a boil. Cover and reduce heat to low. Simmer for 10 minutes or until sauce is thickened.

6 Stir in mint and cook for another 2 to 3 minutes. Season with salt and pepper. Remove from heat.

7 Slice turkey and serve with sauce drizzled over or on the side.
SHARE