Swedish Meatballs with Dill
Temps des Fêtes 2012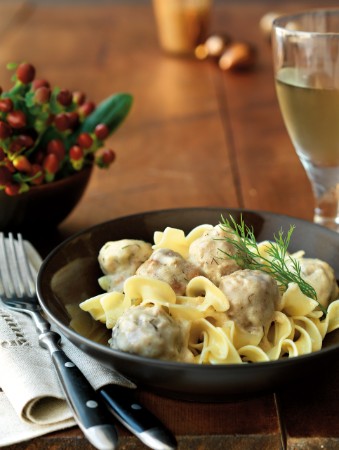 Swedish Meatballs with Dill
Temps des Fêtes 2012
BY: Heather Trim
At a recent food conference, Swedish meatballs were dished up by a chef from one of Toronto's trendiest restaurants. Just goes to show how things come back in style.
½ cup (125 mL) packed leftover stuffing
¼ cup (60 mL) milk
1 egg, lightly beaten
¼ tsp (1 mL) nutmeg
Generous pinches of allspice
Generous grinding black pepper
1 lb (500 g) ground veal
1/3 cup (80 mL) dried bread crumbs
1 tbsp (15 mL) butter
1 tbsp (15 mL) olive oil

SAUCE
4 tsp (20 mL) each butter and all-purpose flour
1¼ cups (310 mL) homemade turkey stock or chicken broth
1/3 cup (80 mL) sour cream
2 tbsp (30 mL) chopped dill
1½ tsp (7 mL) grainy Dijon mustard
1 Finely chop stuffing. Place in a large bowl with milk. Press down on bread to immerse it. If needed, add 2 tbsp (30 mL) more milk. Let bread soak until mushy, about 5 minutes.

2 Add egg and spices to bowl. Stir, then add veal. Mix gently until combined. Milk mixture may be quite wet. Place bread crumbs in a flat dish such as a pie plate. Form meat into 1-inch (2.5‑cm) meatballs then roll in bread crumbs. Set aside on a baking sheet. They may not be perfectly round depending on how wet the mixture was.

3 Heat 1 tbsp (15 mL) butter and oil in a large frying pan over medium just until it begins to bubble. Add meatballs to pan but do not crowd. Brown all over and cook through, 5 to 7 minutes. Remove to a platter. Repeat with remaining meatballs, adding more butter if needed.

4 Add 4 tsp (20 mL) butter to pan and melt. Whisk in flour then gradually whisk in stock. Continue to whisk until stock boils and thickens slightly, about 2 minutes. Stir in sour cream, dill and mustard. Return meatballs to pan to warm. Serve as an appetizer or over buttered egg noodles or rice.
SHARE