Swanky Shepherd's Pie
Winter 2010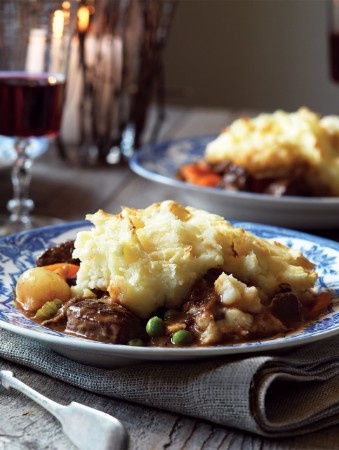 Swanky Shepherd's Pie
Winter 2010
BY: Julia Aitken
True shepherd's pie should be made with lamb, hence the name. This version gives the comfort-food favourite an upgrade with lamb braised in red wine, and addictive truffle-spiked potatoes.
3 lbs (1.5 kg) Yukon Gold potatoes,
peeled and cut into chunks
Salt
¼ cup (50 mL) whole milk
¼ cup (50 mL) unsalted butter
1 tbsp (15 mL) truffle oil
Freshly ground pepper
Red-Wine-Braised Lamb (recipe follows)
3 medium carrots, thinly sliced diagonally
2 celery stalks, thinly sliced diagonally
1 cup (250 mL) frozen peas, thawed and drained
1. In a large saucepan, combine potatoes with enough salted water to cover them. Bring to a boil over high heat. Reduce the heat to medium-low, then cook, covered, for 20 to 30 minutes or until potatoes are very tender. Drain well. Return potatoes to the saucepan over low heat for a few seconds, shaking the saucepan to dry potatoes slightly.

2. In a 1-cup (250-mL) microwaveable measure, combine milk and butter. Microwave on high (100 percent) for about 1 minute or until milk is steaming and butter has melted. Add milk mixture to saucepan, then mash potatoes roughly with a fork. With a hand-held electric mixer, beat potatoes just until smooth and fluffy (don't overmix or potatoes will become gluey). Stir in truffle oil, pepper and more salt to taste.

3. While potatoes are cooking, reheat braised lamb over medium heat, stirring occasionally.

4. Preheat the oven to 400°F (200°C).

5. In a steamer set over a large saucepan of simmering water, steam carrots and celery for 5 to 7 minutes until vegetables are tender-crisp. Add vegetables and peas to braised lamb and stir gently. Season with salt and pepper to taste.

6. Spoon braised lamb into a 10-cup (2.5-L)oven proof dish. Spoon mashed potato over lamb, spreading it right to edges of dish, then fluff top decoratively with a fork. Bake, uncovered, for 15 to 20 minutes or until bubbly. Broil or 1 to 2 minutes or until peaks of mashed potato turn golden brown. Let stand for 10 minutes before serving.

Red-Wine-Braised Lamb

Even without the mashed potato topping, this easy braise makes a warming supper on a cold
day.

3 lbs (1.5 kg) boneless lamb leg, trimmed of excess fat and cut into 1-inch (2.5-cm) pieces
¼ cup (50 mL) olive oil
Salt and freshly ground pepper
10 oz (300 g) cipollini onions, peeled (about 12)
4 cloves garlic, minced
2 cups (500 mL) red wine
¼ cup (50 mL) tomato paste
2 tbsp (25 mL) minced fresh rosemary leaves
2 tbsp (25 mL) each of packed brown sugar and
Worcestershire sauce
1. Preheat the oven to 300°F (150°C).

2. Pat lamb dry with paper towels. In a large flame-proof casserole over medium-high heat, heat 2 tbsp (25 mL) oil. Cook lamb in batches for about 5 minutes per batch, turning often and sprinkling with salt and pepper, until browned on all sides. Remove lamb to a large plate as each batch browns. Add another 1 tbsp (15 mL) oil during cooking as necessary.

3. Reduce heat to medium and add remaining oil to casserole. Cut onions in half, and any larger ones in quarters. Add onions to
casserole, then cook, stirring often, for 2 to 3 minutes or until onions are golden brown. Add garlic, then cook for 1 minute. Stir in wine and bring to a boil, stirring to scrape up any browned bits from bottom of casserole. Stir in tomato paste, rosemary, sugar and Worcestershire sauce. Bring to a boil over high heat.

4. Return lamb to casserole and cover tightly. Transfer casserole to oven. Cook for 1½ to 2 hours or until lamb is very tender. (Braise can be cooled then refrigerated for up to 24 hours.)
SHARE