Summery Spaghetti Aglio e Olio
Early Summer 2019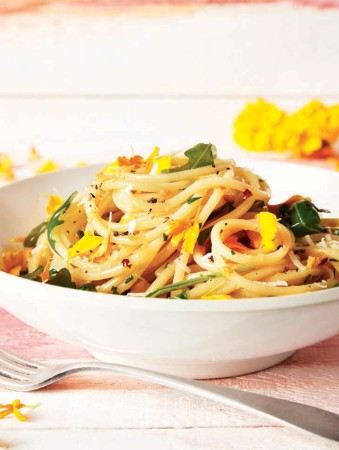 Summery Spaghetti Aglio e Olio
Early Summer 2019
BY: Eshun Mott
The peppery flavour of calendula petals is echoed by the baby arugula and makes a fresh and colourful foil for the garlic and chilis in this classic pasta dish. 
1 lb (455 g) spaghetti
½ cup (125 mL) extra virgin olive oil, divided
3 tbsp (45 L) chopped garlic
¼ tsp (1 mL) chili flakes
¼ cup (60 mL) chopped parsley
3 cups (750 mL) baby arugula
1 cup (250 mL) calendula petals
Black pepper
Grated Parmesan
1 Bring a pot of well-salted water to a boil. Add spaghetti and cook until al dente according to package directions.

2 Heat ⅓ cup (80 mL) olive oil in a large skillet over medium-low. Add garlic and chilli flakes and sauté very gently for 3 to 5 minutes or until garlic is lightly golden. About 4 minutes before the pasta has finished cooking, scoop 1–cup (250–mL) of the pasta cooking water from the pot and add to the olive oil mixture. Bring to a boil and cook for 4 minutes or until reduced by about half. Drain pasta and add into skillet, tossing well to coat with sauce. Sprinkle with parsley and remaining 2 tbsp (30 mL) olive oil and fold in baby arugula until just wilted. Add in half of the petals and stir to combine. Then sprinkle individual servings with remaining petals and serve with black pepper and grated Parmesan alongside.
SHARE