Summery Crab Cakes with Tropical Salsa
Summer 2009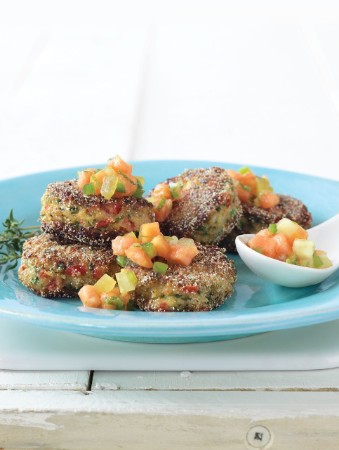 Summery Crab Cakes with Tropical Salsa
Summer 2009
BY: Emily Richards
The texture makes these flavourful little cakes perfect to pick up with your hands and pop in your mouth. The cornmeal adds a little crunch to the coating that is made to be enjoyed with the sweet ripe tropical fruit salsa.
1 egg
2 tbsp (25 mL) mayonnaise
1 tsp (5 mL) Dijon mustard
1⁄3 cup (75 mL) seasoned dry bread crumbs
Half sweet red pepper, finely diced
1 green onion, finely chopped
2 tbsp (25 mL) chopped fresh Italian parsley or coriander
1 tsp (5 mL) chopped fresh thyme
1 pkg (200 g) frozen snow crabmeat, thawed and squeezed dry

Coating
3 tbsp (45 mL) seasoned dry bread crumbs
3 tbsp (45 mL) fine yellow cornmeal
3 tbsp (45 mL) vegetable oil

Tropical Salsa
1⁄2 cup (125 mL) finely diced papaya
1⁄3 cup (75 mL) finely diced ripe star fruit
2 tsp (10 mL) seeded and diced jalapeño pepper
1⁄2 tsp (2 mL) grated lime rind
1 tbsp (15 mL) lime juice
1. Combine egg, mayonnaise, Dijon, bread crumbs, red pepper, green onion, parsley and thyme in bowl. Add crabmeat and mix well. Using moistened hands, shape 1 tbsp (15 mL)of the crab mixture into small patty.Repeat with remaining mixture to shape 16 patties.

2. For coating, combine bread crumbs and cornmeal in shallow dish and coat patties evenly on both sides.

3. Heat oil in large nonstick skillet over medium-high heat and cook crab cakes in batches for about 8 minutes, turning once or until golden on both sides.Remove to paper-towel-lined plate and repeat with remaining crab cakes.

4. For Tropical Salsa, combine papaya, star fruit, jalapeño pepper, lime rind and juice in bowl. Top each crab cake with some of the salsa before serving.
Makes about 16 crab cakes
SHARE