Summertime Potato Salad
Début de l'été 2003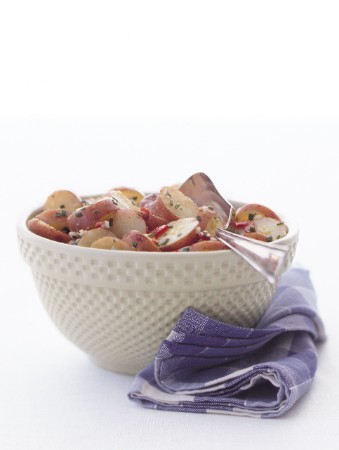 Summertime Potato Salad
Début de l'été 2003
BY: Heather Trim
Hold the mayo! Instead, toss potatoes with a savoury olive oil dressing, roasted red pepper and fresh herbs.
1 1/2 lbs (750 g) unpeeled mini-potatoes
1 tsp (5 mL) salt
1/4 cup (50 mL) olive oil
2 tbsp (25 mL) white wine vinegar
1 tsp (5 mL) Dijon mustard
2 tbsp (25 mL) shallots, or 2 minced garlic cloves
1/4 tsp (1 mL) each salt and freshly ground pepper
1 small roasted red pepper, peeled, seeded and diced
3 tbsp (45 mL) chopped parsley, basil or chives
1. Slice potatoes into 1/2-inch (1-cm) thick slices or leave whole if tiny. Place in a large saucepan and cover with cold water. Add salt. Over medium-high heat, bring to the boil, partially covered. Cook until tender, about 10 to 15 minutes.
2. Meanwhile, whisk oil with vinegar, mustard, shallots, salt and pepper. Drain potatoes well, then place back in saucepan. Set over low heat, shaking pan back and forth until any water still on potatoes evaporates, about 20 seconds. Remove from heat and place in a bowl. Toss with half dressing, stirring until well mixed. Set aside until cool.
3. Toss with red pepper and parsley. Then add remaining dressing and additional salt and pepper if needed.
SHARE