Summer Carbonara with Sugar Snaps & Slow-Roasted Grape Tomatoes
Summer 2018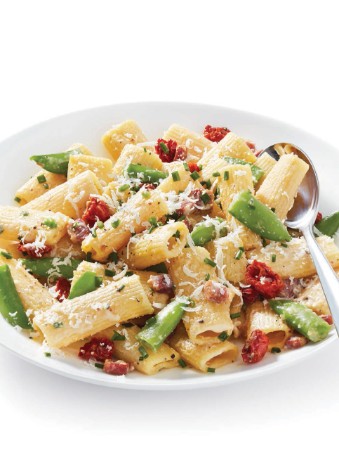 Summer Carbonara with Sugar Snaps & Slow-Roasted Grape Tomatoes
Summer 2018
BY: Julia Aitken
We like chunky rigatoni for this versatile pasta, but any shape would work. If using smaller pasta, like penne or fusilli, you'll need just 4 cups (1 L). And you can sub finely chopped bacon for the pancetta, if you prefer.
2 cups (500 mL) grape tomatoes, halved
⅓ cup (80 mL) olive oil, divided
Salt and freshly ground black pepper to taste
6 oz (170 g) sugar snap peas
2 tsp (10 mL) kosher salt
½ cup (125 mL) freshly grated
Parmesan cheese
½ cup (125 mL) freshly grated
Pecorino cheese
3 eggs
1 egg yolk
3 cloves garlic, peeled and smashed
6 oz (170 g) cubed pancetta, about 1¼ cups (310 mL)
¼ tsp (1 mL) hot pepper flakes
5 cups (1.25 L) rigatoni, about 12 oz (340 g)
½ cup (125 mL) Pinot Grigio
¼ cup (60 mL) finely chopped chives, divided
1 tsp (5 mL) finely grated lemon zest
1 tbsp (15 mL) fresh lemon juice
Freshly grated Parmesan cheese to serve
1. Preheat oven to 200°F (100°C). Line a rimmed baking sheet with parchment paper.

2. In a medium bowl, toss tomatoes with 2 tbsp (30 mL) olive oil and salt and pepper to taste. Spread tomatoes out on prepared baking sheet, arranging them cut-sides up.

3. Roast tomatoes, uncovered, until wrinkly and shrunken but not browned, 4 to 4½ hours. Set tomatoes aside. (Tomatoes can be prepared ahead and refrigerated, covered, for up to 3 days.)

4. Trim sugar snaps and remove strings, if any. Bring a large pot of water to a boil. Add 2 tsp (10 mL) kosher salt and sugar snaps. Boil until sugar snaps are tender-crisp, about 2 minutes. With a slotted spoon, scoop sugar snaps out of pot and set aside to drain. Set pot of water aside.

5. When sugar snaps are cool enough to handle, cut them in half crosswise, then set aside.

6. In a medium bowl and using a fork, whisk together Parmesan, Pecorino, eggs, egg yolk and pepper to taste. Set aside.

7. In a large skillet, combine remaining oil and garlic. Cook over medium-low heat, stirring occasionally, until garlic just starts to turn golden, about 10 minutes. Discard garlic.

8. Increase the heat to medium and add pancetta and hot pepper flakes to skillet. Cook, stirring occasionally, until pancetta is crisp and has rendered its fat, 8 to 10 minutes.

9. Meanwhile, return pot of water to a boil and add rigatoni. Cook until pasta is al dente, 10 to 12 minutes.

10. While pasta is cooking, add wine to pancetta mixture in skillet and simmer until liquid has reduced slightly and has emulsified, about 5 minutes. Keep warm over low heat.

11. With a ladle, scoop out about ½ cup (125 mL) pasta water from pot to a bowl and set aside. Drain pasta and return it to hot pasta pot. Add cheese mixture and contents of skillet. Toss pasta well, adding reserved pasta water, a little at a time, until a creamy sauce forms (you may not need all of pasta water).

12. Add all but 1 tbsp (15 mL) chives, the lemon zest and juice and reserved tomatoes and sugar snaps. Toss gently. Taste, add more salt and pepper and toss again if necessary.

13. Tip pasta into a warm serving bowl and sprinkle with remaining chives. Serve at once with additional Parmesan.
Serves 4 to 6 as a main course
SHARE