Stuffing Roll
Temps des Fêtes 2018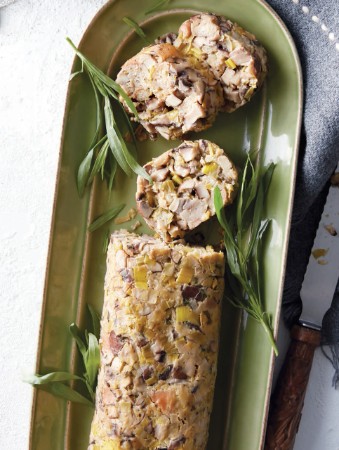 Stuffing Roll
Temps des Fêtes 2018
BY: Lucy Waverman
Bake alongside the chicken. You cannot stuff a chicken when you cook it in a casserole, but stuffing is so much a part of a holiday dinner that making it this way is perfect. If you prefer not to make a sausage shape, then bake in a covered casserole dish alongside the chicken for 30 minutes. Uncover for the last 5 minutes to brown the top.
2 tbsp (30 mL) unsalted butter, plus extra
2 tbsp (30 mL) olive oil
3 cups (750 mL) chopped leeks, white and light green part only, about 3
2 cloves garlic, chopped
12 oz (340 g) brown mushrooms, chopped
8 oz (225 g) shiitake mushrooms, stemmed and chopped
2 tbsp (30 mL) chopped fresh tarragon or 2 tsp (10 mL) dried
1¼ cups (310 mL) fresh bread crumbs
1 cup (250 mL) chicken stock
Salt and freshly ground pepper
1 egg, beaten
1 tbsp (15 mL) lemon juice
1. Preheat oven to 400°F (200°C). Cut a piece of parchment that measures 10 x 15 inches (25 x 38 cm), grease with butter on one side. Cut a piece of foil at least 18 inches (45 cm) long.

2. Add olive oil and 2 tbsp (25 mL) butter to a large skillet on medium heat. Add leeks and sauté for 3 minutes. Add garlic and mushrooms, sprinkle with tarragon and sauté until mushrooms begin to brown, about 7 minutes. Stir in bread crumbs, chicken stock, salt and pepper to taste. Remove from heat and cool slightly, then stir in egg and lemon juice.

3. Place stuffing on buttered parchment, creating a log about 2 inches (5 cm) thick. Roll it tightly in the parchment into a sausage form. Wrap the parchment with foil, twisting the ends tightly. Bake for 30 minutes or until firm. Remove from oven and let rest for 10 minutes, unroll, and cut into slices.
SHARE