Stuffed Wild Salmon with Roasted Gooseberries & Fennel
Été 2010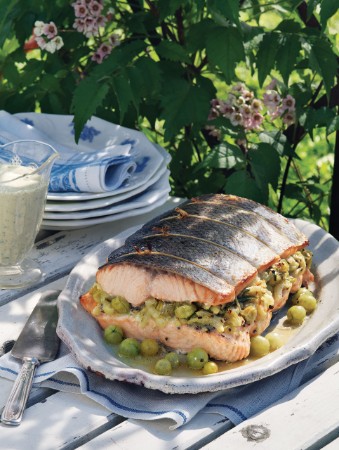 Stuffed Wild Salmon with Roasted Gooseberries & Fennel
Été 2010
BY: LeeAnne Wright
Tart gooseberries with fennel and tarragon form the perfect trilogy when combined with fresh wild salmon, which is at its delicious peak this time of year. Stuffing two fillets rather than a whole fish still makes a statement on the platter but is easy and fuss-free when serving. Salmon can also be grilled on medium-high direct heat in a greased, metal fish-shaped basket. Just turn over basket 15 minutes into cooking time.
1 large fennel bulb, cored, and top stalks cut off
and discarded
¼ cup (50 mL) olive oil, divided
Salt and pepper
2 pints (1 L) green or red gooseberries,
topped and tailed with scissors
1 tbsp (15 mL) sugar
2 wild salmon fillets 1¼ lbs (625 g) each,
with skin on
2 tbsp (25 mL) fresh tarragon leaves

Sauce

½ cup (125 mL) loosely packed tarragon leaves
¾ cup (175 mL) mayonnaise
3 tbsp (45 mL) extra virgin olive oil
1 tbsp (15 mL) Dijon mustard
1 large garlic clove, finely minced
Juice and zest from 1 orange
Salt and pepper, to taste
1. Preheat oven to 400°F (200°C).

2. Quarter fennel lengthwise, then slice ⅛ inch (3 mm) thick with mandoline or with a sharp knife. Toss fennel in bowl with 1 tbsp (25 mL)oil, salt and pepper. Spread fennel out in a shallow baking sheet. Roast in oven, stirring halfway through, about 15 minutes or until fennel begins to caramelize and brown.

3. Toss gooseberries in a bowl with 1 tbsp (25 mL) oil, sugar, salt and pepper. Roast in a shallow baking pan for 5 minutes or just until juices start to run.

4. Increase oven temperature to 450°F (230°C).

5. Place a wire rack on top of a sheet pan. Spray rack lightly with oil. Rub oil on skin side of fillet and place down on rack. Sprinkle fish with salt and pepper, then top with roasted fennel and gooseberries. Sprinkle with tarragon leaves. Season remaining fillet and place on top of stuffing, matching up with lower fillet. Tie stuffed fillets with 4 pieces of kitchen twine. Rub top of fish with remaining oil. Roast salmon in the oven until fish is just cooked through, about 25 minutes.

6. Make sauce while fish roasts by pulsing together all sauce ingredients in a food processor.(If preparing by hand, finely chop tarragon and mix together with remaining sauce ingredients.) Transfer to a bowl and chill, covered, until ready to use.

7. Transfer fish onto a platter. Remove string and cut into servings. Serve fish with sauce on the side.
SHARE