Stuffed Whole Cabbage
Winter 2007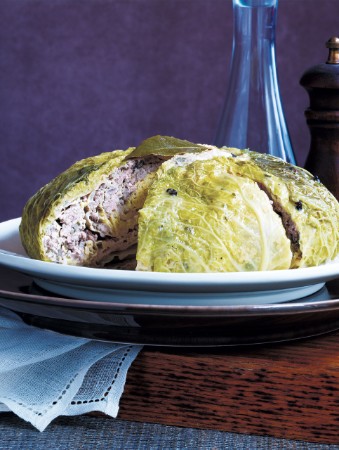 Stuffed Whole Cabbage
Winter 2007
BY: Jennifer McLagan
This twist on cabbage rolls might sound like a lot of work but is quite easy and makes for a great presentation. It also reheats well and is good cold.
1 medium-small Savoy cabbage
Salt
2 tbsp (25 mL) unsalted butter
2 onions, diced
3 garlic cloves, minced
20 fresh sage leaves, shredded
2 eggs
2½ tsp (12 mL) kosher salt
1 tsp (5 mL) ground allspice
Freshly ground black pepper
1½ lbs (750 g) minced pork
1 cup (250 mL) fresh bread crumbs
? cup (75 mL) chopped parsley
3 sprigs thyme
1 bay leaf
6 juniper berries, crushed
4 to 6 cups (1 to 1.5 L) chicken stock
1. Remove the coarse outside leaves from the cabbage and trim the base. Bring a large pot of salted water to a boil. Blanch the cabbage for 7 minutes, then refresh under cold running water, drain well.

2. Melt the butter in a large frying pan over medium heat, add the onions, season well and cook until softened. Stir in the garlic and sage the set aside to cool.

3. Whisk the eggs, salt, allspice and pepper together. Pour into a large bowl and add the pork and cooled onion mixture. Stir in the bread crumbs, parsley and mix well. Fry a small ball of stuffing to check the seasoning. Adjust the stuffing if necessary-it should be well seasoned, as the cabbage will absorb it.

4. Spread a clean cotton cloth or cheesecloth on the work surface and place the cabbage in the centre. Open out the leaves carefully, like a flower until you reach the heart and the leaves are small and too brittle to peel back. Starting with the inside circle of leaves, spread about 1 to 2 tbsp (15 to 25 mL) of stuffing onto them, then fold them back around the cabbage heart. Repeat with each layer of leaves, adding more stuffing to the bigger leaves. If you run out of stuffing before the last layer, don't worry, just fold those leaves to reform the cabbage. Bring the cloth up around the cabbage to keep it in place and tie the opposite corners.

5. Place the cabbage, thyme, bay leaf and juniper berries into a large saucepan or flameproof casserole, and pour in enough chicken stock to come at least halfway up the side of the cabbage. Add a little water if necessary.

6. Bring to a boil over high heat, then reduce the heat, cover and simmer for 2 hours. Remove the cabbage and let sit for 10 minutes to drain out excess liquid. Bring the cooking juices to a boil, skim and boil gently to reduce slightly.

7. Remove the cloth from the cabbage. Cut the cabbage into wedges, removing the core, if desired, and serve with the some of the cooking juices spooned over.
SHARE