Stuffed Radishes
Début de l'été 2010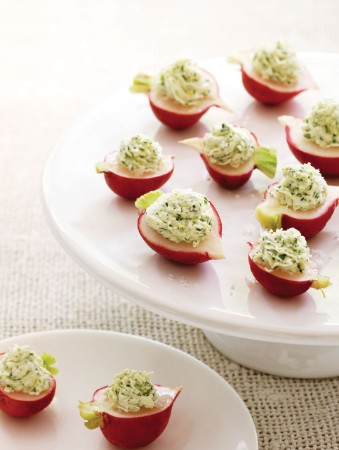 Stuffed Radishes
Début de l'été 2010
BY: Nicole Young
Shop local markets for fresh radishes that are best eaten out of hand and have a delicate peppery flavour. This quick and elegant recipe takes full advantage of their flavour and texture with the addition of a lemony herb goat cheese filling. The fleur de sel is a must as a garnish. Use a ½ cup (125 mL)of coarse sea salt—depending on the size of your platter—to line your serving platter to make it easier to stand the radishes in so they don't tip over while you are piping or when moving the platter to where they are to be served.
½ cup (125 mL) goat cheese
1 tbsp (15 mL) each minced fresh dill,
basil and flat leaf parsley
2 tsp (10 mL) lemon zest
1 lb (500 g) radishes (about 2 bunches)
trimmed and halved lengthwise
1 tbsp (15 mL) fleur de sel
1. In a bowl, combine goat cheese, dill, basil, parsley and lemon zest until blended.Spoon into piping bag fitted with a small star or leaf tip.

2. Arrange radishes on a platter, cut-side up.

3. Pipe filling over each radish, about 1 tsp(5mL). Sprinkle with fleur de sel.
SHARE