Stuffed Fish Rolls
Autumn 2010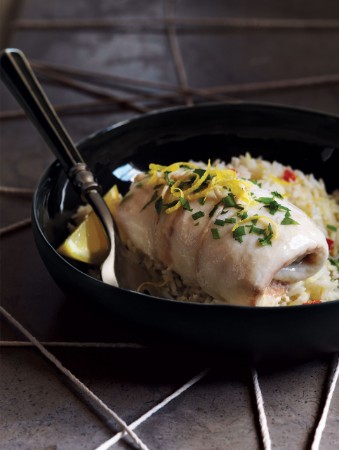 Stuffed Fish Rolls
Autumn 2010
BY: Marilyn Bentz-Crowley
Tilapia is a mild white fish that pleases a wide variety of people. If at all possible, try to buy fresh fish fillets, as frozen ones are often quite watery.
4 tilapia fillets, each about 6 to 7 oz
(175 to 210 g)
4 thin prosciutto slices
1 lemon
½ cup (125 mL) extra smooth ricotta cheese
¼ tsp (1 mL) freshly ground black pepper
¼ cup (50 mL) freshly grated Parmesan cheese
1½ to 2 cups (375 to 500 mL) lightly packed sorrel leaves or baby spinach and arugula mixture
Kitchen twine
2 tbsp (25 mL) butter
1. Preheat oven to 350°F (180°C).

2. Generously butter or grease an 8-inch (2-L) square baking or gratin dish that will snugly hold rolls. With the best-looking side down, lay fish on paper towels; pat dry. Lay a prosciutto slice over each, folding prosciutto to fit as needed.

3. Zest lemon and squeeze juice; keep separate. Stir ricotta with pepper. Divide ricotta mixture among fillets; smooth over prosciutto. Sprinkle with Parmesan. Top with a layer of sorrel, pressing into cheese. Cut 8 pieces of twine, each about 16 inches (40 cm) long.

4. Roll up each fillet from the short end; tie neatly on either side of middle with twine. Trim twine ends; discard. Place rolls seam side down in dish. (Fish rolls can be covered and promptly refrigerated for up to half a day. Add 10 minutes to baking time.)

5. Melt butter; evenly drizzle over rolls. Sprinkle with 2 tbsp (25 mL) lemon juice. Cover dish tightly with foil. Bake for 35 to 40 minutes or until fish at end of roll flakes easily when prodded with a fork.

6. Mix lemon zest with a finely chopped leaf or 2 of sorrel. Place fish onto warmed serving plates; garnish with zest mixture. Lemony rice pilaf with diced roasted red pepper or tomato and steamed broccoli are delicious sides to have with the fish.


SHARE