Stuffed Baked Peaches
Summer 2006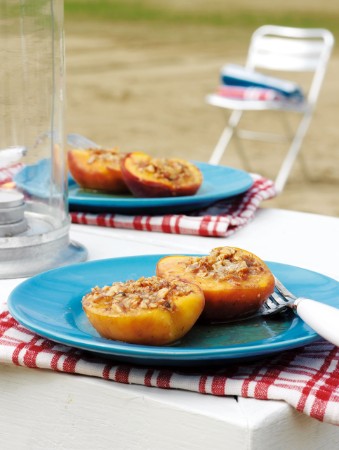 Stuffed Baked Peaches
Summer 2006
BY: Jennifer McLagan
Leave the skin on the peaches, it holds the fruit together and gives a great colour. Serve these peaches warm from the oven or at room temperature.
¼ cup (50 mL) toasted unblanched almonds
¼ cup (50 mL) brown sugar
¼ cup (50 mL) unsalted butter, cubed
4 peaches
¼ cup (50 mL) Grand Marnier
1. Preheat oven to 350°F (180ºC).

2. Place the almonds and brown sugar in a food processor and process until the almonds are chopped. Add the butter and pulse until blended.

3. Cut the peaches in half and remove pits. Place them in a baking dish, cut side up. Place about 1 tbsp (15 mL) of mixture into the centre of each peach. Pour the Grand Marnier plus ¼ cup (50 mL) of water into the dish then cover with aluminum foil.

4. Bake for 20 to 30 minutes or until the peaches are soft but still holding their shape. The timing will depend on the ripeness of the peaches. Serve with the baking juices.
SHARE