Stuffed Baked Clams
Spring 2009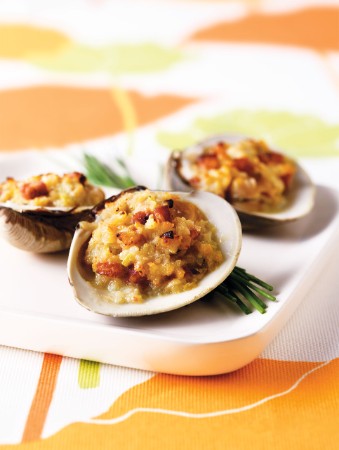 Stuffed Baked Clams
Spring 2009
BY: Lucy Waverman
Baked clams have been a delicacy for me since the time I lived in Boston. This recipe is great served as an appetizer or an hors d'oeuvre. Using a larger size of clams, such as cherrystone, provides a better flavour.
2 lbs (1 kg) cherrystone clams,about 24
1⁄2 cup (125 mL) white wine
2 cloves garlic, smashed
3 sprigs thyme
1⁄4 cup (50 mL) whipping cream
1⁄4 cup (50 mL) unsalted butter
1⁄4 cup (50 mL) finely chopped pancetta
1⁄2 cup (125 mL) finely chopped onion
1⁄2 cup (125 mL) finely chopped celery
1⁄4 cup (50 mL) fresh bread crumbs
2 tbsp (25 mL) finely chopped parsley
2 tbsp (25 mL) finely chopped basil
1⁄4 tsp (1 mL) hot pepper sauce or to taste
Salt to taste
1. Place clams, wine, garlic and thyme in pot over high heat. Bring to boil, cover and steam clams until they open, about 5 to 7 minutes. Remove lid and use tongs to remove clams as they open. Cool.

2. Remove top half of clamshell and discard. Reserve clams and add any juice to the clam cooking liquid in pot. Add whipping cream, bring to boil and boil until thickened, about 3 minutes. There will be about 2 tbsp (25 mL) sauce. Discard thyme and use a fork to mash any garlic pieces into sauce. Reserve.

3. Preheat oven to 450°F (230°C).

4. Heat 2 tbsp (25 mL) butter in a skillet over medium heat. Add pancetta andsauté for 3 minutes or until slightly crispy. Stir in onions and celery and cook over medium-low heat for 4 minutes or until softened. Remove from heat and add bread crumbs, parsley, basil and reserved cream mixture.Season with hot pepper sauce and salt to taste.

5. Loosen clams from bottom shell and place on a baking sheet. Top with a spoonful of stuffing and dot each with a tiny knob of remaining 2 tbsp (25 mL) butter.

6. Bake for 5 minutes or until the mixture is browned and the clams are heated. 
SHARE