Strip-Loin Spoons with Balsamic Reduction
Early Summer 2010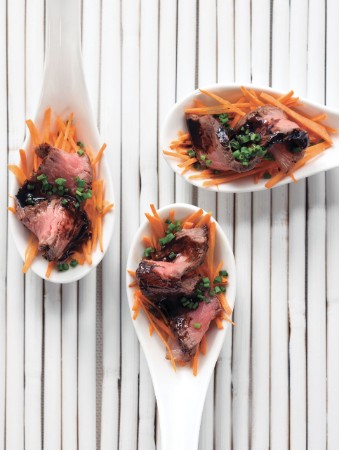 Strip-Loin Spoons with Balsamic Reduction
Early Summer 2010
BY: Marilyn Bentz-Crowley
While it may seem strange to use soy sauce with Mediterranean ingredients, it naturally contains glutamic acid that boosts beef's flavour. This is important when consuming a mere morsel from a spoon! All the balsamic reduction will not be needed; however, it keeps for weeks, refrigerated, ready to use on hot barbecued steaks or kebabs or stirred into a sauce for a flavour boost.
10 oz (300 g) strip-loin steak, at least
1 inch (2.5 cm) thick
2 tbsp (25 mL) olive oil, divided
1 tbsp (15 mL) soy sauce
1 tsp (5 mL) brown sugar
1 garlic clove, minced
Several grindings freshly ground black pepper
½ cup (125 mL) balsamic vinegar
1 tbsp (15 mL) butter, softened
1¼ cup (300 mL) grated carrot
24 flat-bottom Chinese spoons
2 to 3 tbsp (25 to 45 mL) snipped chives
or thinly sliced green onions
1. Place steak in a plastic bag. Combine 1 tbsp(15 mL) oil with soy sauce, sugar, garlic and pepper. Spoon over both sides of steak; seal bag. Massage bag so whole steak is coated; refrigerate for an hour or up to half a day.

2. Preheat a medium frying pan, preferably cast-iron, over medium to medium-high until very hot. Pat steak dry with paper towel to remove most of marinade. Brush steak on both sides with remaining oil. Pan-sear steak on each side for 3 minutes for medium-rare; remove to a plate. (Steak can be covered and refrigerated for up to 2 days. Serve chilled or warm if preferred.)

3. Pour vinegar into hot frying pan; stir to get up all browned bits. Let bubble a couple of minutes or until reduced by half and quite syrupy; remove from heat. Briskly stir in butter.Pour into a small heatproof bowl. (If making ahead, cover and refrigerate. Reduction keeps well for 3 to 4 weeks.)

4. Hold a chef's knife at a 45-degree angle to steak top to partially cut across grain; very thinly slice steak. Divide grated carrot among spoons. Top with steak, curling or stacking to fit as needed. Add a drop or two of balsamic reduction and scatter with chives.
SHARE