Strip Loins with Bloody Mary Tomatoes
Summer 2009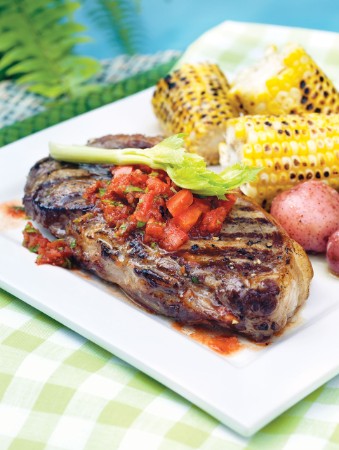 Strip Loins with Bloody Mary Tomatoes
Summer 2009
BY: Marilyn Bentz-Crowley
Worcestershire, vodka and spicy hot sauce enliven this fresh tomato sauce, which requires no cooking. Serve with corn on the cob and salt-potatoes (small whole new potatoes cooked in very heavily salted water)—and plenty of butter.
1 lb (500 g) ripe plum tomatoes
8 large sun-dried tomatoes
2 tbsp (25 mL) vodka
1 tsp (5 mL) Worcestershire sauce
1⁄2 to 1 tsp (2 to 5 mL) hot sauce
1⁄4 tsp (1 mL) salt
1⁄4 tsp (1 mL) freshly ground black pepper
2 tbsp (25 mL) chopped celery leaves or fresh parsley
1 tsp (5 mL) fine lemon zest
4 strip loin steaks, each a generous
1 inch (2.5 cm) thick
1 tbsp (15 mL) olive or peanut oil
4 stalks of celery (optional)
1. To make sauce, seed tomatoes; set aside half. Cut remaining half into rough pieces and place in a food processor or blender. Chop sun-dried tomatoes. (If sun-dried tomatoes are dry and leathery, plump by combining with 2 tablespoons of water in a custard cup; microwave, covered, for 15 to 30 seconds or until water is absorbed.) Add to food processor along with vodka, Worcestershire, hot sauce, salt and pepper. Whirl until tomatoes are finely chopped.

2. Finely dice reserved tomato half; place in a bowl. Stir in tomato mixture from food processor, celery leaves and lemon zest. Let stand while grilling steaks. (Tomatoes can be made 1 to2 hours ahead and left at room temperature; stir before serving.)

3. Preheat barbecue on high.

4. Rub steaks with olive oil; season with salt and grind black pepper over both sides. Grill steaks for 4 minutes (medium-rare or 145°F/63°C internally) to 5 minutes (medium or 160°F/70°C internally) per side, or more for more well-done meat.

5. To serve, place steaks on warmed serving plates. Nap some sauce over each steak; garnish with celery stalk. Pass remaining sauce.
SHARE