Stir-Fried Ginger Fish with Broccolini
Début de l'été 2006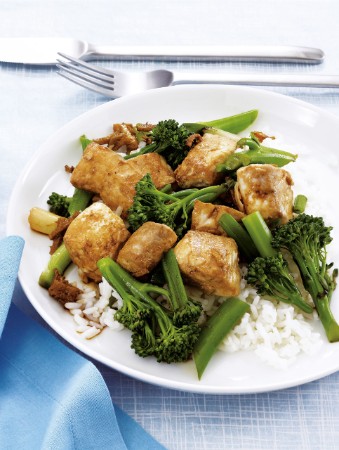 Stir-Fried Ginger Fish with Broccolini
Début de l'été 2006
BY: Bill Granger, Chef, bills
This is an outstanding dish, light, refreshing and full of flavour. Use Alaska black cod or salmon for the best results, but halibut or other firm-fleshed fish work well too. It is important to leave the skin on so the fish does not break up.
1 tbsp (15 mL) vegetable oil
¼ cup (50 mL) julienned fresh ginger
12 oz (375 g) firm white fish with skin, cut into 1-inch (2.5-cm) pieces
8 green onions cut into 1-inch (2.5-cm) lengths
1 bunch (approx ¾ cup) (175 g) broccolini, sliced diagonally
and boiled for 4 minutes or until tender-crisp
2 tbsp (25 mL) fish sauce
2 tsp (10 mL) sugar
1 tsp (5 mL) sea salt
2 tbsp (25 mL) lime juice
1. Heat oil in a wok over high heat. When hot, add ginger and stir-fry for 1 minute or until beginning to brown. Add fish and stir-fry for 3 minutes or until slightly browned and until just cooked through. Add green onions, broccolini, fish sauce, sugar and salt and gently stir-fry for another minute or until everything is hot.

2. Remove from the heat. Add lime juice and serve with steamed rice.
SHARE