Stilton Scalloped Potatoes
Spring 2009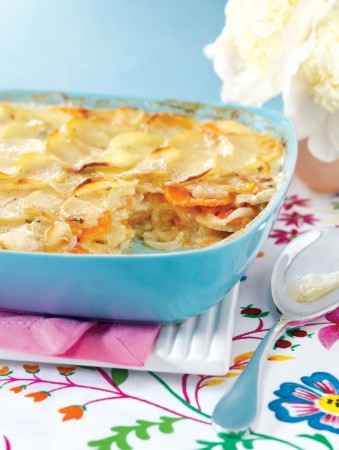 Stilton Scalloped Potatoes
Spring 2009
BY: Emily Richards
Scalloped potatoes are the standard accompaniment at the table with the Easter ham. This side can be rich and decadent especially when made with lots of cheese flavour. So this recipe has reduced fat and included more nutritious vitamins with sweet potatoes added to the mix.
2 tbsp (25 mL) vegetable oil
1⁄4 cup (50 mL) all-purpose flour
3 cups (750 mL) skim milk, warmed
1⁄2 cup (125 mL) crumbled Stilton cheese
1 tsp (5 mL) Dijon mustard
1⁄2 tsp (2 mL) salt
1⁄4 tsp (1 mL) pepper
3 Yukon Gold potatoes, peeled and thinly sliced
2 small sweet potatoes, peeled and thinly sliced
1 small onion, thinly sliced
1. Heat oil over medium-high heat in saucepan. Add flour and cook, stirring for 1 minute. Whisk in milk slowly and continue whisking gently for about 5 minutes or until mixture is thick enough to coat the back of a spoon. Remove from heat and add Stilton cheese, mustard, salt and pepper; whisk until smooth. Set aside.

2. Preheat oven to 375°F (190°C).

3. Alternately layer Yukon Gold and sweet potatoes with onion in lightly greased or sprayed 13 x 9-inch (3-L) casserole dish. Pour milk mixture evenly over potatoes.

4. Bake in oven, uncovered for about 1 hour or until potatoes are golden brown and tender when pierced with a knife.
SHARE