Stilton & Leek Baked Oysters
Autumn 2012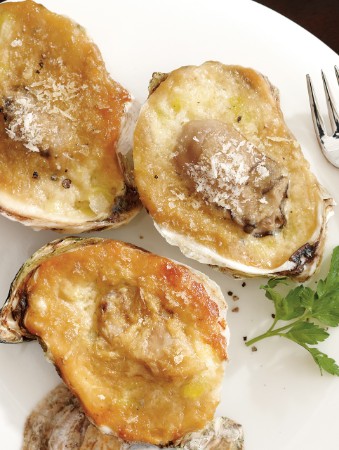 Stilton & Leek Baked Oysters
Autumn 2012
BY: Nancy Won
The perfect oyster for this dish would be a Cavendish Cup, which is a prime example of everythinga wild, large choice oyster should be. They range between 3½ to 4½ inches (9 to 11 cm) inlength, and possess dense, hard valves, which shuck easily. Meats are full and firm, and havea flavour composition that is characterized by a bright brininess. However, whatever oystersyou have available will work well. You can have the fishmonger preshuck the oysters and keepthem in their brine for you, but remember to keep the shells. A great first course or passedaround as an hors d'oeuvre.
LEEK FILLING
2 tbsp (30 mL) butter
1 cup (250 mL) chopped leeks, dark green leaves discarded
¼ cup (60 mL) water
½ cup (125 mL) whipping cream
Salt and freshly ground pepper

STOUT & STILTON WELSH RAREBIT
¼ cup (60 mL) stout
¼ cup (60 mL) whipping cream
2 egg yolks
8 oz (250 g) Stilton cheese, crumbled
1 tbsp (15 mL) Worcestershire sauce
24 freshly shucked oysters with 24 shells
1 cup (250 mL) panko bread crumbs

1 To make leek filling, heat butter in a smallpot over medium heat until it begins to foambut not brown. Add leeks and cook for 1 minute.Add water, turn heat to high and rapidlycook for 1 minute more.

2 Add cream and bring to the boil and reduceby half, about 3 to 5 minutes. Season with saltand pepper. Set aside to cool.

3 Preheat oven to 350°F (180°C).

4 To make rarebit filling, simmer stout onmedium-high heat in a pot until reduced byhalf, about 1 minute. Add cream and reducethis by half again until thick, about 2 minutes.

5 Reduce heat to low and mix in egg yolks,cheese and Worcestershire sauce. Stir untileverything is incorporated. The mixture willprobably have some lumps of cheese in it. Setaside.

6 To assemble, place half shells on a parchment-lined baking sheet. Spoon about 2 tsp(10 mL) of the leek mixture into each shell.Place 1 oyster on top of each. Cover each oysterwith 1 to 2 tbsp (15 to 30 mL) of the cheesemixture. Cover cheese mixture with about 2 tsp(10 mL) panko per oyster.

7 Place in oven for 8 to 10 minutes until goldenbrown and filling is bubbling. Serve immediately.
SHARE