Sticky Ribs with Chinese Flavours
Été 2005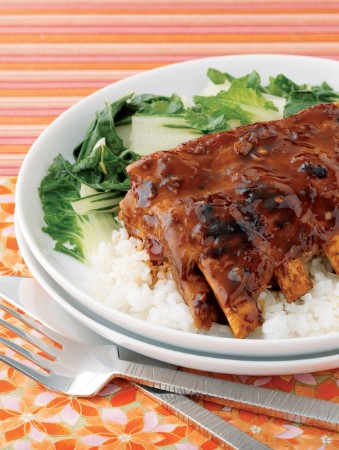 Sticky Ribs with Chinese Flavours
Été 2005
BY: Dana Speers
These sticky, garlicky ribs are sweet, salty and spicy. Keep in mind that different barbecues can vary in temperature and have various hot spots. Keep a close eye on the ribs while they're cooking to prevent them from burning.
2 racks meaty baby back pork ribs
Salt and freshly ground pepper
Vegetable oil, for greasing pan
2 tsp (10 mL) coarsely chopped garlic
¼ cup (50 mL) red pepper jelly
3 tbsp (45 mL) hoisin sauce
2 tbsp (25 mL) soy sauce
2 tsp (10 mL) red chili paste
1 tbsp (15 mL) oyster sauce
1 tbsp (15 mL) honey
½ tsp (2 mL) five-spice powder
1. Preheat the oven to 300ºF (150ºC).

2. Season ribs generously with salt and pepper. Put ribs on an oiled broiler pan, bone-side down. Fill bottom of pan with water and cover ribs tightly with foil. Put ribs in oven.

3. Bring remaining ingredients to simmer in small saucepan over medium heat. Stir to combine and set aside.

4. Bake ribs 2½ hours or until ribs are tender when pierced with a knife. If bottom of pan dries out during cooking, add more water. Discard foil and brush ribs with sauce. Continue baking ribs 30 minutes longer.

5. Preheat the barbecue on medium-high heat. Remove ribs from oven and brush both sides with sauce. Grill 3 to5 minutes per side, basting occasionally with sauce. Transfer ribs to a board and let rest 5 minutes. Cut each rack into 2 sections and serve with stir-fried Chinese broccoli and steamed white rice.
SHARE