Steamed Mussels with Fennel
Spring 2010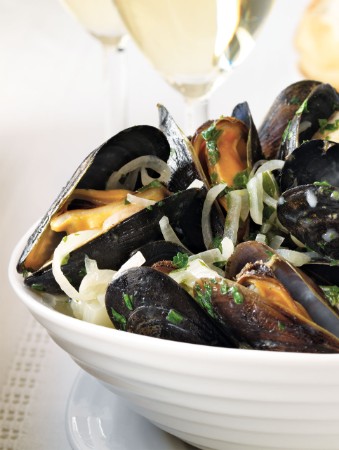 Steamed Mussels with Fennel
Spring 2010
BY: Nicole Young
Mussels are both inexpensive and simple to prepare. This fennel-infused sauce requires some crusty bread or frites to soak it all up.
½ cup (125 mL) butter
5 shallots, peeled and thinly sliced
4 cloves garlic, peeled and thinly sliced
½ fennel bulb, thinly sliced
4 sprigs thyme
1 cup (250 mL) white wine
1 tsp (5 mL) freshly ground white pepper
½ cup (125 mL) heavy (35%) cream
2 lbs (1 kg) mussels, well rinsed
¼ cup (50 mL) flat-leaf parsley, roughly chopped
1. Melt butter in a large stockpot or Dutch oven over low heat. Add the shallots, garlic, fennel and thyme. Gently sauté until the vegetables are tender, but not browned, about 12 minutes. Increase the heat to high; stir in the wine, pepper and cream and bring to boil. Gently add mussels and cover with a tight-fitting lid. Cook just until the mussels open, about 3 minutes. Remove from heat. Gently stir in parsley.

2. Serve in large bowls (discarding any unopened mussels) with crusty bread or frites.
Makes 2 main course servings or 4 starters
SHARE