Steamed Mussels with Chili Tomato Sauce
Temps des Fêtes 2007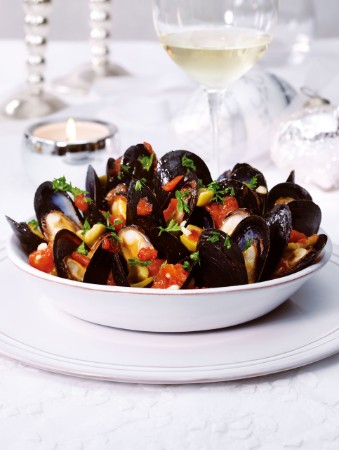 Steamed Mussels with Chili Tomato Sauce
Temps des Fêtes 2007
BY: Lucy Waverman
The spicy sauce matches the mussels' briny flavour. You could serve over pasta as a main course if you preferred.
1 tbsp (15 mL) olive oil
2 tsp (10 mL) chopped garlic
1 cup (250 mL) chopped canned tomatoes
½ cup (125 mL) white wine
½ tsp (2 mL) chili flakes
2 lb (1 kg) mussels
¼ cup (50 mL) chopped green olives
2 tbsp (25 mL) chopped parsley
1. Heat olive oil in a wide pot over medium heat. Add garlic and sauté for 30 seconds then add tomatoes and cook for 5 minutes or until juices are reduced. Add wine and chili flakes.

2. Turn heat to high and bring sauce to boil. Add mussels and steam for 3 to 4 minutes, removing them as they open to a serving bowl. Discard any that do not open.

3. Stir olives and parsley into sauce and pour sauce over mussels. Serve immediately with crusty bread for dipping.
Serves 4 as a first course
SHARE