Steamed Grouper Japanese Style
Hiver 2012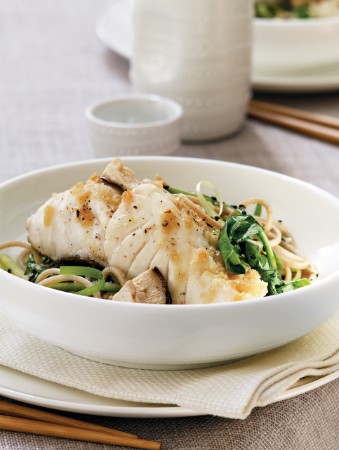 Steamed Grouper Japanese Style
Hiver 2012
BY: Lucy Waverman
You could substitute Alaskan black cod, halibut or any thick white fish for the grouper
2 tbsp (30 mL) seasoned rice vinegar 
2 tbsp (30 mL) mirin
1 tbsp (15 mL) soy sauce
2 tbsp (30 mL) finely chopped pickled ginger
1 tbsp (15 mL) wasabi paste
2 tbsp (30 mL) vegetable oil
2 cups (500 mL) baby spinach
4 shiitake mushrooms, stems removed and quartered
4 grouper fillets, each 6 oz (175 g) skin on 
Salt and freshly ground pepper
1 Combine rice vinegar, mirin, soy sauce, pickled ginger, wasabi paste and vegetable oil.

2 Place spinach in a dish that fits inside a steamer basket. Top with mushrooms and grouper. Season with salt and pepper and pour over vinegar marinade.

3 Place dish inside steamer basket, cover and place basket over boiling water in a wok. Make sure the steamer does not touch the water. Steam for 12 to 15 minutes or until fish is just cooked, spinach is wilted and mushrooms are softened.

4 Place fillets in 4 shallow bowls and divide sauce and vegetables among them. Serve with Noodle Salad (recipe follows). 






NOODLE SALAD
Noodles are the perfect side for this steamed dish. If soba noodles are unavailable substitute with ramen noodles.

2 tbsp (30 mL) soy sauce
2 tbsp (30 mL) lemon juice
1 tbsp (15 mL) vegetable oil
2 tsp (10 mL) grated ginger
1 tsp (5 mL) sugar
Salt and freshly ground pepper
6 oz (175 g) soba noodles

GARNISH
1 cup (250 mL) julienned cucumbers
1 cup (250 mL) julienned green onions
2 tsp (10 mL) black sesame seeds
1 Combine soy sauce, lemon juice, vegetable oil, grated ginger and sugar and season with salt and pepper to taste. Reserve.
2 Bring a large pot of salted water to a boil. Add noodles and boil for 4 to 5 minutes or until al dente. Refresh with cold water and place in a bowl.

3 Add dressing to noodles and toss to coat. Add cucumber, green onions and sesame seeds and toss until just combined. Season with salt and pepper to taste.
SHARE