Steamed Artichokes with Herbed Goat Cheese Dip
Spring 2018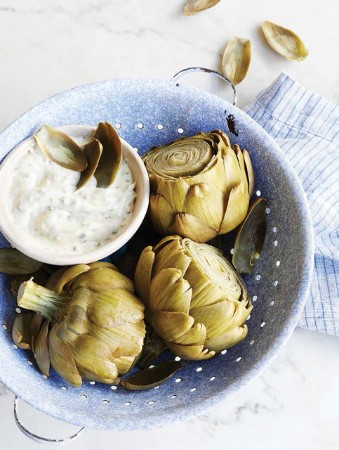 Steamed Artichokes with Herbed Goat Cheese Dip
Spring 2018
BY: Signe Langford
Certain foods are meditative, because the eating of them is slow, delicious piecework. Steamed whole artichokes require the eater to pluck, dip and drag each tender petal—yes, petal, the artichoke is a thistle flower!—between the teeth, leaving plenty of time for convivial chatting and sipping. This flexible dip recipe makes enough for up to 10 artichokes. Any leftover is amazing tossed with pasta or just about any cooked vegetable, and will keep, covered, in the fridge for up to 3 days.
1 lemon, cut in half
8 to 10 whole large globe artichokes
1 tbsp (15 mL) butter
1 tbsp (15 mL) flour
¼ tsp (1 mL) white pepper
¼ tsp (1 mL) black pepper
1 cup (250 mL) 35% cream
½ cup (125 mL) chèvre (soft, unripened goat cheese)
¼ cup (60 mL) finely crumbled goat's or sheep's milk feta
A couple of dashes Tabasco or other hot sauce
1 tbsp (15 mL) finely chopped fresh oregano leaves
2 tbsp (30 mL) finely chopped fresh chives
1 Add cold water to a non-reactive (glass or china) bowl, squeeze the lemon juice in.

2 Trim the tough first 1 inch or 2 inches (2.5 cm or 5 cm) from the tops of the artichokes; trim the stem ends leaving about ½ inch (1 cm) of stem; drop trimmed artichokes into the lemon water as you go; set aside.

3 Into a saucepan over low heat, add the butter and flour and stir constantly for about 2 minutes or until a pale nutty colour.

4 Add white and black pepper, cream, chèvre, feta, and hot sauce; stir continuously until melted, combined and thickened, about another 2 to 3 minutes.

5 Remove from heat and stir in the herbs; cover and set aside to keep warm.

6 Set a steamer into a large pot with lid over high heat and once boiling, add the artichokes, stem ends turned up. Replace lid, and steam for 20 to 30 minutes or until a paring knife can easily be inserted into the stem; a leaf should also be easily plucked off. Transfer to a plate. Keep an eye on the water level; don't let it boil dry.

7 To serve family-style, arrange the artichokes all around a dish of the goat cheese dip, or serve 1 or 2 artichokes per person and provide each guest with their own small dish of dip. To get the most from each artichoke, enjoy every last leaf, right down to the bristly choke. Then, with a small spoon, scrape out and discard the prickles, and voila! The heart, which is divine dipped into the sauce.
Serves up to 10; makes 1½ cups (375 mL) sauce
SHARE