Steak Crostini with Horseradish Cream
Early Summer 2018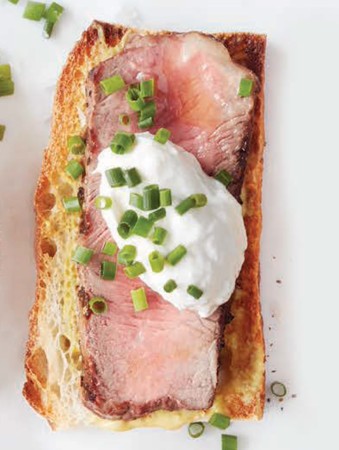 Steak Crostini with Horseradish Cream
Early Summer 2018
BY: Eric Vellend
Omit quail eggs and tarragon. Preheat grill to high. Toss 6 green onions with a little olive oil. Grill, turning occasionally, until nicely charred and tender, about 3 minutes. Cool and chop. Mix onion with 2 tsp (10 mL) extra virgin olive oil and 1 tsp (5 mL) sherry vinegar. Season with salt and pepper. Spoon relish over beef.
STEAK CROSTINI WITH FRIED QUAIL EGGS & TARRAGON

Here steak and eggs are reimagined as a gorgeous, two-bite hors d'oeuvre. Since quail eggs have a tougher shell than chicken eggs, open them ahead of time by cutting the tops off with a serrated knife and pouring the egg into a ramekin. Don't cook the steak too rare or the crostini will be tricky to eat.

1 New York strip loin steak, 14 oz (425 g) about 1½ inches (4 cm) thick
Salt and freshly ground pepper to taste
1 rectangle focaccia, Ace Bakery if available
2 cloves garlic, halved
Dijon mustard to taste
2 tbsp (30 mL) vegetable oil, divided
12 quail eggs
Coarse sea salt and tarragon leaves for serving
1. Let steak stand at room temperature for 30 minutes. Preheat grill to medium-high.

2. Season steak generously with salt and pepper. Clean and oil barbecue grate. Grill steak, turning occasionally, until medium-rare to medium, 10 to 12 minutes. Transfer steak to cooling rack and rest 20 minutes. Slice ¼ inch (5 mm) thick.

3. Preheat broiler to high.

4. Cut focaccia crosswise into 6 slices, each ¾ inch (2 cm) thick. (Save rest for another use.) Trim ends and cut each slice in half. Place on a foil-lined heavy-duty baking tray. Broil 4 inches (10 cm) from heat until lightly browned, 1 to 2 minutes per side.

5. Rub tops of crostini with cut sides of halved garlic. Smear generously with Dijon. Top each crostini with a slice of steak.

6. Heat 1 tbsp (15 mL) vegetable oil in a large nonstick pan over medium heat. Fry 6 quail eggs until whites are set, about 1 minute. Transfer to crostini. Repeat with remaining oil and eggs. Sprinkle crostini with coarse salt and tarragon.
SHARE