Steak 'n' Eggs Mexican-Style
Winter 2013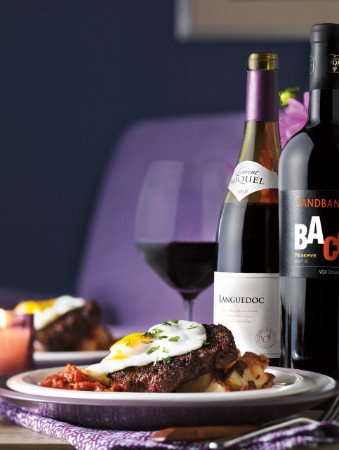 Steak 'n' Eggs Mexican-Style
Winter 2013
BY: Julia Aitken
For this dinnertime take on Mexico's famous breakfast dish, huevos rancheros, we've given a nod to morning by adding a coffee rub to seared strip loins, then teaming them with a spicy tomato sauce and a fried egg apiece. Adjust the amount of chipotles in the sauce depending on how much kick you want it to have.
STEAKS
3 strip-loin steaks, each 14 oz (425 g)
and 1 inch (2.5 cm) thick
2 tbsp (30 mL) ground coffee
1 tbsp (15 mL) chili powder
1 tsp (5 mL) ground cumin
1 tsp (5 mL) sweet smoked paprika
1 tsp (5 mL) freshly ground black pepper
1 tbsp (15 mL) olive oil
Kosher salt to taste

HUEVOS RANCHEROS
3 tbsp (45 mL) olive oil
1 medium onion, finely chopped
2 cloves garlic, minced
1 tsp (5 mL) dried oregano
½ tsp (2 mL) ground cumin
Pinch granulated sugar
1 can (28 oz/796 mL) diced tomatoes
1 to 2 tbsp (15 to 30 mL) minced canned chipotle chilies in adobo sauce
1 tbsp (15 mL) tomato paste
Kosher salt and freshly ground black pepper to taste
6 eggs
¼ cup (60 mL) finely chopped cilantro
1 Trim any excess fat from steaks and cut each in half crosswise. Pat dry with paper towels and arrange in a single layer on a large plate.

2 In a small bowl, stir together coffee, chili powder, cumin, paprika and pepper. Rub steaks on both sides with olive oil, then pat spice mixture evenly over both sides of each steak. Let stand, loosely covered, for 1 hour at room temperature.

3 For huevos rancheros, heat 2 tbsp (30 mL) oil in a large saucepan over medium heat. Add onion and cook, stirring often, until very soft but not browned, 8 to 10 minutes. Stir in garlic, oregano, cumin and sugar and cook, stirring, for 30 seconds.

4 Add tomatoes, with their juices, chipotles and tomato paste and bring to a boil. Reduce heat to medium-low and simmer, covered, to blend flavours, about 15 minutes.

5 Uncover saucepan and simmer sauce, stirring occasionally, until thickened slightly, 5 to7 minutes. Add salt and pepper to taste and set aside.

6 Heat an oiled, ridged grill pan over medium-high heat. Sprinkle steaks on both sides with salt to taste. Add steaks to grill pan and cook, turning once, until done to taste, 6 to 8 minutes for medium-rare. Remove steaks to a warm plate and let stand, loosely covered, for 10 minutes.

7 In a large nonstick skillet, heat remaining oil over medium heat. Carefully break eggs into skillet and fry until done to taste, 2 to 3 minutes for sunny-side up.

8 Reheat tomato sauce over medium heat, then stir in 3 tbsp (45 mL) cilantro.

9 To serve, divide steaks among 6 dinner plates. Carefully top each steak with 1 egg and some of the sauce, spooning remaining sauce around steaks. Sprinkle with remaining cilantro.
SHARE