Squiggly Spinach Linguine
Autumn 2008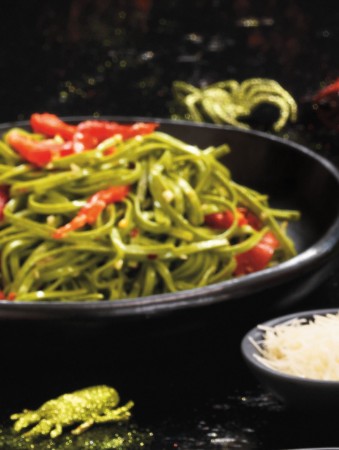 Squiggly Spinach Linguine
Autumn 2008
BY: Jennifer MacKenzie
The dark green pasta and strips of roasted red pepper will have your guests squirming at the sight. But after just one bite, the fabulous flavours of soft garlic in olive oil and a touch of heat will turn the queasiness into delight. At other times of the year, substitute regular pasta for a less spooky dish.
3 sweet red peppers
12 oz (375 g) spinach linguine or spaghetti
¼ cup (50 mL) olive oil
4 cloves garlic, minced
Pinch of hot pepper flakes
Sea salt and freshly ground pepper
Freshly grated Parmesan cheese
1. Preheat broiler.

2. Broil red peppers on a baking sheet, turning often, for about 20 minutes or until all sides are roasted and blackened. Place in a bowl and cover with plastic wrap. Let cool completely. Peel peppers and discard stems and seeds. Pat dry with paper towel. Cut lengthwise into thin strips. Set aside.

3. Bring a large pot of salted water to a boil and cook pasta for 8 to 10 minutes or until al dente. Drain and return to pot.

4. Meanwhile, heat oil over medium-low heat in a skillet. Add garlic and hot pepper flakes and sauté for about 3 minutes or until softened and fragrant but not browned. Add roasted red pepper strips and stir gently just until heated through. Add to pasta and toss gently to coat evenly. Season to taste with salt and pepper. Place in a warmed serving dish and pass the Parmesan to sprinkle on top.
SHARE