Squash and Fennel Soup with Cider and Caramelized Apple
Winter 2008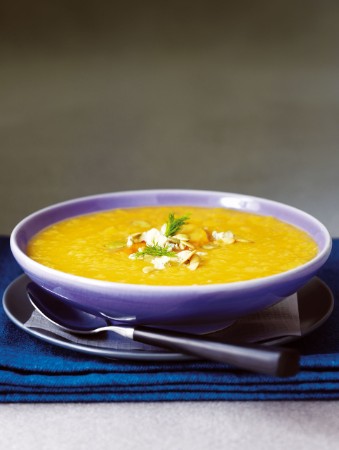 Squash and Fennel Soup with Cider and Caramelized Apple
Winter 2008
BY: Marilyn Bentz-Crowley
Fennel is the "secret" ingredient as it heightens the melded flavours, which otherwise might be too mild. Choose smooth cheddar or richly flavoured Stilton for garnish, and crisp toasted pumpkin seeds or walnuts add snappy texture.
Soup
3 lb (1.5 kg) orange winter squash such as butternut (see Tip below)
2 cups (500 mL) sliced fennel, about ½ bulb
1 tbsp (15 mL) butter
1 medium onion, chopped
2½ cups (625 mL) chicken broth
1 to 2 cups (250 to 500 mL) fresh cider, divided
1 bay leaf
1 tbsp (15 mL) finely chopped fresh thyme or 1 tsp (5 mL) dried
½ tsp (2 mL) white wine vinegar
½ tsp (2 mL) salt
¼ tsp (1 mL) freshly ground black pepper

Garnish
4 crisp sweet apples such as Royal Gala
2 tbsp (25 mL) granulated sugar
2 tbsp (25 mL) butter1½ cups (375 mL) grated old cheddar or ¾ cup (175 mL) crumbled Stilton

½ cup (125 mL) toasted green pumpkin seeds or walnuts
1. Slice off squash rind; scrape out and discard seedy interior. Cut squash into 1-inch (2.5-cm) chunks. Finely chop some of feathery-green fennel frond; set aside for garnish.

2. Heat butter in a large saucepan over medium heat. Add onion; cook 5 minutes or until softened. Add squash and sliced fennel. Pour in broth and 1 cup (250 mL) cider; add bay leaf. Bring to a boil; cover and simmer for 25 minutes or until squash is tender. Remove and discard bay leaf.

3. Purée in batches; return to saucepan. Add thyme, vinegar, salt and pepper. If soup is too thick, thin with remaining 1 cup (250 mL) cider as needed. (Soup can be covered and refrigerated for up to 2 days; or frozen airtight for a month.)

4. Meanwhile, peel, core and very thinly slice apples; sprinkle with sugar. Heat butter in a large frying pan over medium heat. When bubbly, add apples slices, increase heat to medium-high and sauté 5 minutes, turning frequently, or until browned and softened. Pull off heat and cool in pan.

5. Heat soup until hot; ladle into shallow serving bowls. Top with apples, cheese, seeds or nuts and pinches of green frond. Serve right away.

Tip: To easily cut off squash rind, use a knife to pierce into hollow centre of whole squash. Microwave whole about 5 minutes; cool and slice off rind.
SHARE