Squash Strudel with Red Pepper and Sage
Autumn 2000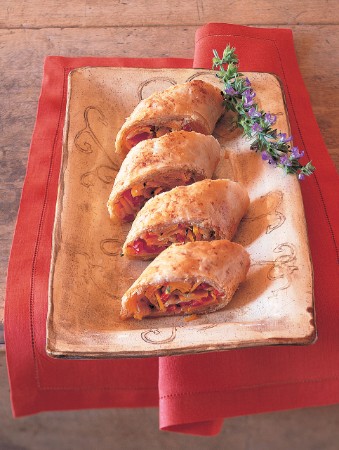 Squash Strudel with Red Pepper and Sage
Autumn 2000
BY: Johanna Burkhard
If you're bored with rice or potatoes as a side dish, serve this impressive vegetable strudel instead.
1/4 cup (50 mL) olive oil
1 large red bell pepper, cut into 1 1/2 -inch (4-cm) thin strips
1 onion, halved lengthwise and thinly sliced
3 garlic cloves, minced
2 lbs (1 kg) butternut squash, peeled, cut into large pieces
and thinly sliced
2 tbsp (25 mL) chopped fresh sage
Salt and freshly ground pepper
1/4 cup (50 mL) freshly grated Parmesan cheese
2 tbsp (25 mL) fine dry breadcrumbs
6 sheets phyllo pastry
1/3 cup (75 mL) melted butter
1. Heat half of the oil in a large non-stick skillet over medium-high heat. Add red pepper, onion and garlic and cook, stirring, for 5 minutes, or until tender. Transfer to a bowl. Reduce heat to medium and add remaining oil to skillet. Add squash and cook, stirring often, for 8 to 10 minutes or until just tender. Stir in pepper mixture, sage and season with salt and pepper. Place in a bowl and let cool.
2. Combine Parmesan cheese and breadcrumbs in a bowl. Lightly brush 1 sheet of phyllo with some of the melted butter and sprinkle with 1 tbsp (15 mL) of the crumb mixture.
3. Layer with 4 more sheets of phyllo lightly brushing each layer with butter and sprinkling with 1 tbsp (15 mL) crumb mixture. Top with remaining sheet of phyllo and lightly brush with butter. Spoon a 3-inch (8-cm) wide strip of squash mixture lengthwise down pastry 2-inches (5-cm) from edge. Fold 1-inch (2.5-cm) of the pastry ends over filling and carefully roll up pastry around filling. Place seam-side down on a baking sheet lined with parchment paper. Brush with remaining butter. (Can be assembled up to 4 hours ahead of baking and refrigerated.)
4. Preheat oven to 400°F (200°C).
5. Cut 7 diagonal slits in top of pastry. Bake for 25 to 30 minutes or until pastry is golden. Cut into diagonal slices and serve warm or at room temperature.
SHARE