Squash Ravioli with Sage Butter Sauce
Autumn 2007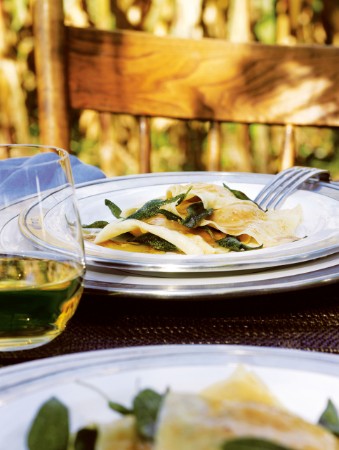 Squash Ravioli with Sage Butter Sauce
Autumn 2007
BY: Jennifer McLagan
Simple to make, these seasonal ravioli can be prepared several hours in advance and kept covered in the refrigerator, or frozen and then cooked directly from the freezer.
1 small hubbard squash
Vegetable oil
1/3 cup (75 mL) freshly grated Parmesan cheese
1 tbsp (15 mL) rosemary leaves, finely chopped
Kosher salt and freshly ground pepper
Pinch ground nutmeg
1 egg white
1 double pkg (400 g) wonton wrappers
½ cup (125 mL) butter
36 fresh sage leaves
1. Preheat the oven to 400°F (200°C).

2. Cut the squash in half, remove the seeds and then cut into wedges, leaving the skin on. Place the wedges in a lightly oiled roasting pan. Roast the squash for 1 to 1¼ hours, or until the squash is soft. Remove from the oven and leave the squash to cool.

3. Discard the skin. Pass the squash through a food mill or purée in a food processor (you need 1 cup/250 mL).

4. Add the cheese and rosemary to the squash purée and season with the salt, pepper and nutmeg.

5. Whisk the egg white with 1 tsp (5 mL) water. Place 1 wonton wrapper on the counter and top with 2 tsp (10 mL) of the squash mixture. Brush the edges of the wonton wrapper with egg white then top with a second wrapper. Press to seal well. If desired, trim the edges with a fluted pastry wheel. Repeat with the remaining wrappers. Place the ravioli in a single layer on towel-lined baking sheets, and cover with another towel.

6. Bring a large pot of salted water to a boil and drop in the ravioli. Cook until the ravioli float and become slightly transparent, about 3 minutes. Drain well, keeping ½ cup (125 mL) of the pasta cooking water.

7. While the ravioli are cooking, melt the butter in a large frying pan, over medium-low heat, add the sage leaves and cook, turning once, until the leaves are crisp and the butter begins to brown, about 7 minutes.

8. Add the drained ravioli to the frying pan. Toss to coat, adding enough pasta water to create a sauce. Serve on warmed plates or pasta bowls.
SHARE