Squash Pot Pie with Smoked Turkey & Parmesan Crust
Autumn 2014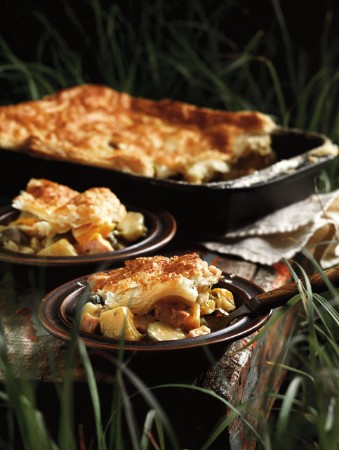 Squash Pot Pie with Smoked Turkey & Parmesan Crust
Autumn 2014
BY: Lucy Waverman
Smoked turkey gives a smoky undertone to the pie. For a vegetarian option, omit the turkey and replace chicken stock with vegetable stock. Buttercup squash is drier than other varieties and works the best for this dish. If unavailable, try Hubbard. Butternut will work in a pinch but does not have as intense a flavour or such a hearty texture.
FILLING
1 buttercup squash, peeled and cut in
1 inch (2.5 cm) chunks, about 6 cups (1.5 L)
2 cups (500 mL) Brussels sprouts, trimmed and halved lengthwise
2 tbsp (30 mL) olive oil
Salt and freshly ground pepper
5 oz (150 g) smoked turkey, cut in ¾ inch (2 cm) cubes
3 tbsp (45 mL) butter
1 large leek, white part only, thinly sliced
1 small bulb fennel, diced,
about 2 cups (500 mL)
1 tsp (5 mL) fresh thyme

SAUCE
¼ cup (60 mL) butter
¼ cup (60 mL) flour
2¼ cups (560 mL) chicken stock
¼ tsp (1 mL) chili flakes
¼ cup (60 mL) Greek yogurt

PASTRY
½ of a 450 g pkg puff pastry
1 egg, beaten with a pinch of salt
½ cup (125 mL) grated Parmesan
1 Preheat oven to 400°F (200°C).

2 For filling, toss squash chunks and Brussels sprouts with olive oil and season with salt and pepper. Scatter squash on a baking sheet, reserving sprouts. Roast for 10 minutes then add Brussels sprouts to sheet. Continue roasting for 15 to 20 more minutes, turning occasionally or until tender-crisp. Reserve vegetables in a large bowl and add smoked turkey.

3 Heat 3 tbsp (45 mL) butter in sauté pan or large pot on medium heat. Add leeks, fennel and thyme and sauté until soft, 6 minutes. Add to large bowl with roasted vegetables and turkey.

4 For sauce, melt ¼ cup (60 mL) butter in pan. Stir in flour and cook over medium heat until flour turns a pale gold, about 2 minutes. Remove from heat and slowly stir in stock until smooth. Return to heat and bring to boil. Simmer for 1 minute, or until slightly thickened. Season with salt and pepper and chili flakes. Stir in Greek yogurt. Stir into vegetables in the bowl.

5 Butter the bottom, sides and edges of a 10 x 8-inch (25 x 20-cm) baking dish. Scrape the filling into the dish, mounding it in the middle.

6 Roll puff pastry into a 12-inch (30-cm) square. Trim pastry by cutting 1-inch-wide (2.5 cm) lengths from each side. You will have 4 strips. Brush the rim of the dish with beaten egg. Cut the strips to fit the rim of the baking dish and lay on the rim. Brush top of pastry strips with more egg. This will create extra lift when it bakes. Place remaining puff over filling, overlapping the pastry on the edges. Brush with beaten egg and sprinkle with Parmesan. Make 3 small slits in the pastry with a sharp knife.

7 Bake for 25 minutes or until puff pastry is browned and flaky and filling is bubbling.
SHARE