Squash Brulée
Autumn 2000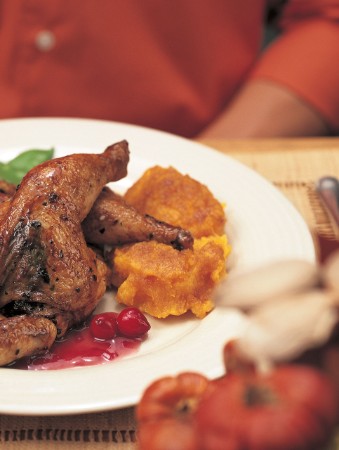 Squash Brulée
Autumn 2000
BY: Lucy Waverman
Sprinkling brown sugar on top of the squash and then broiling it gives the look of a crème brulée.
2 lbs (1 kg) acorn or butternut squash, peeled and diced
2 cups (500 mL) chicken stock or water
1 tsp (5 mL) grated nutmeg
Salt and freshly ground pepper
1 egg, beaten
1/2 cup (125 mL) whipping cream
1/4 cup (50 mL) grated Parmesan cheese
2 tbsp (25 mL) butter
2 tbsp (25 mL) brown sugar
1. Preheat oven to 375°F (190°C).

2. Place squash and stock in a pot on high heat. Bring to boil, turn heat to low, cover and cook for 10 minutes or until the squash is tender.

3. Drain squash and mash with a potato masher or fork. Mix in nutmeg, salt, pepper, egg, whipping cream and Parmesan.

4. Place in a medium ovenproof baking dish. Dot with butter.

5. Bake for 20 minutes or until the squash is hot. Sift brown sugar on top and place under broiler. Broil, watching constantly, until sugar bubbles and turns golden about 1 to 2 minutes.
SHARE