Spring Vegetable and Chicken Soup with Homemade Dill Noodles
Early Summer 2009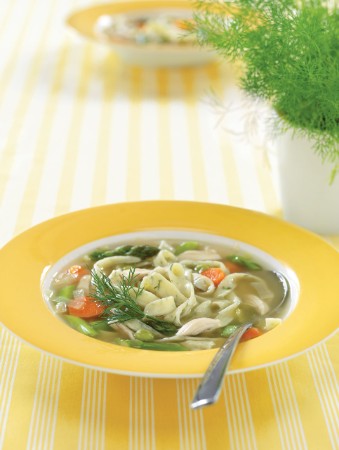 Spring Vegetable and Chicken Soup with Homemade Dill Noodles
Early Summer 2009
BY: Eshun Mott
This is a recipe for those who appreciate the pure flavours and textures of a homemade chicken noodle soup. There are plenty of possible shortcuts. You can use a rotisserie chicken for the meat and use the bones to improve upon purchased good-quality low-sodium chicken stock.You can use regular dry egg noodles instead of homemade. But, if you have the time and inclination, it really is worth it to make the real thing.
Chicken Stock
1 chicken, 3 to 4 lbs (1.5 to 1.8 kg)
12 cups (3 L) cold water
2 onions, unpeeled, quartered
2 leeks, dark green tops only, well rinsed
2 carrots, cut into chunks
1 stalk of celery
6 dill stems (without fronds)
2 parsley stems (without leaves)

Dill Noodles
2 cups (500 mL) all-purpose flour
2 tsp (10 mL) salt
2 large eggs
2 egg yolks
3 tbsp (45 mL) chopped dill
3 tbsp (45 mL) cold water

Vegetables
1 cup (250 mL) carrots, sliced on the bias into
1⁄4 inch thick (5 mm) pieces
1 leek, white and light green parts only, sliced 1⁄4 inch thick (5 mm)
12 oz (375 g) asparagus, cut on the bias into 1 inch (2.5 cm) lengths
1 cup (250 mL) shelled peas
1. Combine chicken, water, onions, leeks, carrots, celery, dill and parsley in a large pot, bring to a boil. Reduce heat to low and simmer gently for1 hour, or until chicken is cooked through. Remove chicken from pot and set aside until cool enough to handle. Remove meat from chicken, shred into bite-sized pieces and reserve. Return bones to stock and simmer gently for 1 to 2 hours longer or until stock is full of flavour. Strain stock and skim fat.

2. Make the noodles while the stock is simmering. Combine flour and salt ina bowl, add eggs and egg yolks and mix until well combined. Add dill and just enough cold water to bring the dough together. Turn dough out onto a well-floured surface and knead until dough is smooth. Dust with flour, cover with a tea towel and let rest 10 minutes.

3. Cut dough into 4 pieces. Working with 1 piece at a time, use a rolling pin (or pasta machine) to roll dough out as thinly as possible (almost paper-thin). Transfer rolled dough onto a piece of parchment paper. Using a pizza wheel (or knife) with a ruler as a guide, cut dough into1⁄4-inch-wide (5-mm) noodles. Repeat process until all dough has been cut into noodles. Allow noodles to air-dry for 1 to 2 hours or until they have lost any stickiness.

4. Return stock to pot—you should have between 8 and 9 cups (2 to 2.25 L). Bring to a boil. Add carrots, leeks and noodles and boil for 10 minutes or until carrots are soft and noodles are almost cooked. Add asparagus, peas and reserved cooked chicken and simmer for 3 minutes longer or until vegetables are tender but still bright green and chicken is warmed through. Season with salt to taste.
SHARE