Spring Pea Soup with Toasted Almonds
Printemps 2011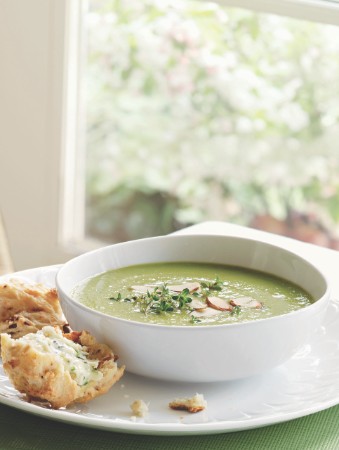 Spring Pea Soup with Toasted Almonds
Printemps 2011
BY: Jennifer MacKenzie
The brilliant green colour of new spring leaves and shoots in the garden comes to the table with this light and fresh-tasting soup. It's a snap to make and is just as delicious made with frozen green peas if the fresh ones aren't yet ready for harvest. Make it a day or two ahead, let it cool then refrigerate it in airtight containers. Just before serving, all you need to do is reheat it to steaming and check the seasoning.
2 tbsp (25 mL) butter
1 cup (250 mL) chopped shallots
1 cup (250 mL) diced peeled potatoes
1 tbsp (15 mL) fresh thyme leaves
6 cups (1.5 L) vegetable broth
4 cups (1 L) green peas, about 1 lb (500 g)
1 tbsp (15 mL) freshly squeezed lemon juice
Salt and freshly ground black pepper
¼ cup (50 mL) sliced almonds, toasted
Fresh thyme leaves


1. Melt butter over medium heat in a pot. Sauté shallots for 5 minutes or until tender and just starting to turn golden. Add potatoes, thyme and broth. Increase heat to high and bring to a boil. Reduce heat, cover with lid slightly ajar, and simmer for about 10 minutes or until potatoes are tender.

2. Stir in peas. Increase heat to medium and simmer, uncovered, for about 5 minutes or until peas are tender. Remove from heat. Purée in the pot using an immersion blender or transfer to an upright blender in batches; return to the pot, if necessary.

3. Reheat over medium heat, stirring occasionally, until steaming. Stir in lemon juice and season to taste with salt and pepper. Ladle into warmed bowls and float toasted almonds and thyme leaves on top.


SHARE