Spring Mesclun Salad with Roasted Asparagus and Dill
Début de l'été 2006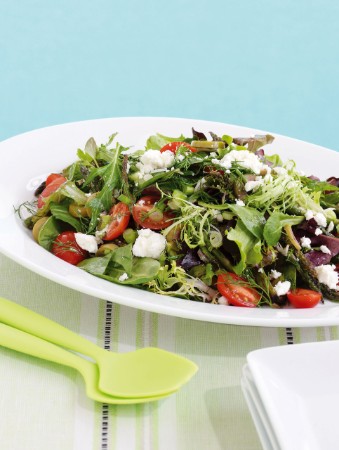 Spring Mesclun Salad with Roasted Asparagus and Dill
Début de l'été 2006
BY: Heather Trim
This super side salad takes advantage of seasonal asparagus. Serve it with grilled chicken, fish or steak.
¼ lb (125 g) asparagus
3 tbsp (45 mL) balsamic vinaigrette, homemade or store-bought
½ cup (125 mL) grape tomatoes, halved
Half a 142 g bag mesclun greens
3 tbsp (45 mL) coarsely chopped fresh dill
1 green onion, thinly sliced
2 tbsp (25 mL) olives, pitted and sliced
¼ cup (50 mL) crumbled goat or grated Asiago cheese
1. Preheat oven to 400°F (200ºC).

2. Wash asparagus then snap off tough ends. Place on a baking sheet. Toss with 2 tsp (10 mL) vinaigrette. Roast asparagus until tender-crisp, 3 to 5 minutes. Remove and cool. Slice diagonally into 2 to 3 pieces.

3. Toss greens with asparagus, tomatoes, dill, green onion and olives until evenly mixed. Toss with remaining vinaigrette then sprinkle with cheese.
SHARE