Spring Beef Sauté
Spring 2012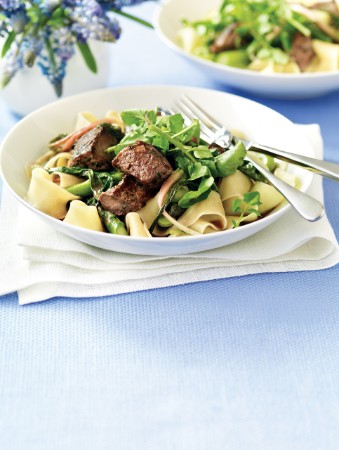 Spring Beef Sauté
Spring 2012
BY: Lucy Waverman
More a full-flavoured beef dish than a pasta dish, this sauté highlights some of the early spring vegetables. You can interchange the vegetables as available. Fiddleheads are available earlier than homegrown asparagus. Watercress is placed uncooked on top of the pasta because the sauté will wilt it slightly. If you are using fiddleheads, wash very well and blanch for 5 minutes in boiling water to soften them for the sauté.
1 lb (500 g) New York sirloin steak, 1¼ inch (3 cm) thick
Salt and freshly ground pepper
1 tsp (5 mL) chopped thyme
2 tbsp (30 mL) vegetable oil
12 thick spears asparagus, tough ends trimmed, cut into 2-inch (5-cm) lengths, or blanched fiddleheads.

SAUCE
½ cup (125 mL) red wine
1 tbsp (15 mL) balsamic vinegar
2 cups (500 mL) beef or chicken stock, low-sodium or homemade
1 tsp (5 mL) Dijon mustard
1 bunch wild leeks
¼ cup (60 mL) shelled fava beans
1 tbsp (15 mL) unsalted butter
8 oz (250 g) cooked pappardelle pasta
2 cups (500 mL) watercress sprigs
1 Trim fat and cut steak in 1-inch (2.5-cm) cubes. Season meat with salt, pepper and thyme.

2 Heat 1 tbsp (15 mL) oil in a large skillet over medium-high heat. Add asparagus and sauté for 2 minutes or until bright green and just slightly undercooked. Remove from pan and reserve.

3 Add remaining 1 tbsp (15 mL) oil and sear meat, turning, for 2 minutes or until browned but still rare in the centre. Remove from pan and reserve with asparagus.

4 Add red wine and balsamic vinegar to pan, bring to a boil and boil for 2 minutes or until reduced to 1 tbsp (15 mL). Add stock and mustard, bring to boil and boil for 7 to 9 minutes or until slightly thickened. Add reserved meat, any juices, asparagus, wild leeks and fava beans to pan and heat until hot and leeks are wilted. Swirl in butter.

5 Divide pasta between 4 plates or bowls, top with watercress and add beef and vegetables.Drizzle with sauce.
SHARE