Spinach-Date Fritters
Holiday 2006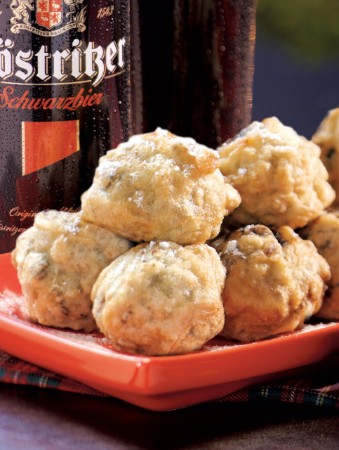 Spinach-Date Fritters
Holiday 2006
BY: Sasha Chapman
This recipe is adapted from Heston Blumenthal's Hampton Court Palace.
8 oz (250 g) frozen spinach, defrosted
½ tsp (2 mL) ground ginger
¼ tsp (1 mL) cinnamon
1/8 tsp (0.5 mL) grated nutmeg
Salt and pepper
4 oz (125 g) pitted dates
2 oz (60 g) currants
3 eggs
½ cup (125 mL) dry bread crumbs or matzoh meal
Vegetable oil
1 cup (250 mL) all-purpose flour
1 cup (250 mL) light, slightly fruity ale, such as Robert Simpson Confederation ale
Icing sugar, optional
1. Squeeze excess water from spinach and place in food processor. Add spices, salt and pepper. Chop finely. Add dates and currants and blend until smooth. Add eggs and mix briefly. Transfer to a bowl and stir in bread crumbs. Let sit 5 minutes. If mixture isn't thick enough to shape into 1-inch (2.5-cm) balls, add more bread crumbs. Shape into balls.

2. Heat vegetable oil, about 1.5-inches (4-cm) deep, in a large, deep frying pan until simmering but not smoking. Meanwhile, make batter: whisk together flour and beer until very smooth.

3. Dip spinach balls in batter and let excess drip off. (No spinach should be exposed-it will burn in the hot oil.) Place in oil and fry 1 to 2 minutes, until light brown. Dust with icing sugar, if desired, and serve hot.
SHARE