Spinach, Herb and Cheese Rolled Soufflé
Printemps 2011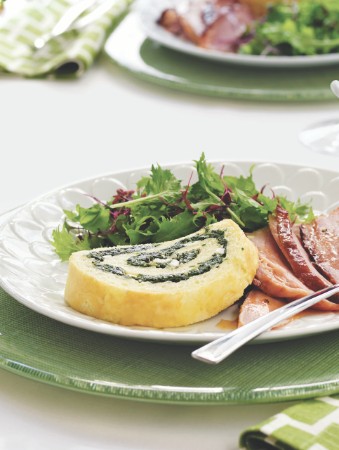 Spinach, Herb and Cheese Rolled Soufflé
Printemps 2011
BY: Jennifer MacKenzie
Serving a soufflé for a special occasion might seem like a daunting task, but the horror stories of flopped soufflés don't apply to this version. The filled roll is easy to make and attractive on the plate and the filling is a delightfully savoury complement to the tender, puffy eggs. Best if made just before serving; however, it can be assembled, refrigerated overnight, then reheated as directed.
FILLING
1 lb (500 g) spinach, trimmed
2 tbsp (25 mL) butter
1 onion, finely chopped
3 cloves garlic, minced
2 tsp (10 mL) chopped fresh rosemary
Salt and freshly ground pepper
⅓ cup (75 mL) sour cream
½ cup (125 mL) chopped fresh parsley
¾ cup (175 mL) crumbled feta (or ½ cup/125 mL crumbled blue cheese)

SOUFFLÉ
2 cups (500 mL) milk
½ cup (125 mL) all-purpose flour
Salt and freshly ground black pepper
6 eggs, separated, whites at room temperature
Pinch of freshly grated nutmeg
½ tsp (2 mL) cream of tartar
2 cups (500 mL) shredded Swiss cheese
1 Wash spinach, shaking off excess water but leaving leaves wet. Trim out tough stems and tear leaves into bite-size pieces. Transfer spinach to a large pot and cook over medium-high heat, stirring often, for about 5 minutes or until just wilted. Transfer to a colander and set aside to drain well. Return pot to medium heat and melt butter. Sauté onion, garlic, rosemary, ¼ tsp (1 mL) salt and ½ tsp (2 mL) pepper for about 5 minutes or until onion is tender. Transfer to a bowl and let cool. Squeeze as much moisture from spinach as possible and add to onion mixture. (Can be covered and refrigerated for up to 1 day).

2 Preheat oven to 375°F (190°C). Line an 11 x 17-inch (28 x 43-cm) rimmed baking sheet or 10 x 15-inch (25 x 38-cm) jelly-roll pan with parchment paper.

3 For soufflé, gradually whisk about ½ cup (125 mL) of the milk into flour in a saucepan to make a smooth paste. Whisk in remaining milk, ½ tsp (2 mL) salt and ¼ tsp (1 mL) pepper. Cook over medium heat, whisking, for about 5 minutes or until bubbling and thick. Remove from heat and whisk vigorously for 1 minute. Whisk in egg yolks, 1 at a time, until well blended. Whisk in nutmeg. Set aside.

4 Beat egg whites, cream of tartar and a pinch of salt in a straight-sided bowl with an electric mixer until stiff peaks form. Fold one-quarter into soufflé mixture. Fold soufflé mixture into remaining egg whites along with 1½ cups (375 mL) of the Swiss cheese just until evenly blended. Pour onto baking sheet and spread evenly. Bake for 15 to 20 minutes for large sheet, or 20 to 25 minutes for jelly-roll pan, or until evenly puffed and golden brown.

5 Meanwhile, stir sour cream and parsley into spinach mixture. Immediately invert soufflé onto a damp, lint-free tea towel and peel off paper. Spread spinach mixture evenly over soufflé and sprinkle with feta cheese. Starting at 1 long side, using the towel to lift soufflé and guide the rolling, roll up jelly-roll style and place seam-side down on the baking sheet. If making ahead, let cool slightly then remove tea towel. Wrap tightly all the way around with parchment paper then plastic wrap and refrigerate for up to 1 day. If serving right away, skip to step 7.

6 To serve, if soufflé has been chilled, preheat oven to 350°F (180°C). Remove plastic wrap and leave soufflé roll wrapped in parchment paper. Heat in oven for about 25 minutes or until heated through. Remove parchment paper.

7 Preheat broiler. Remove tea towel from soufflé if necessary. Sprinkle remaining ½ cup (125 mL) Swiss cheese over top of roll. Broil until cheese is melted. Cut into 8 slices to serve.
SHARE