Spinach with Bacon and Vidalia Onion
Début de l'été 2005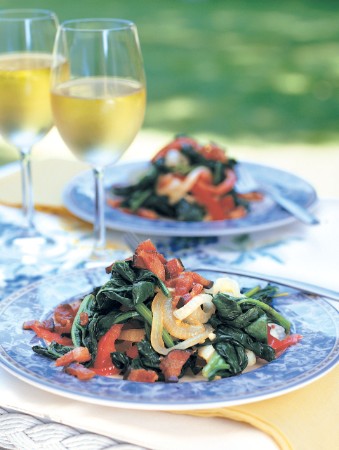 Spinach with Bacon and Vidalia Onion
Début de l'été 2005
BY: Marilyn Bentz-Crowley
Collard greens are an old culinary tradition likely dating back to slaves and their African heritage. Since collards are hard to find outside the South, spinach makes a delicious stand-in for these greens.
Two 10 oz (300 g) bags spinach
6 slices bacon
1 medium Vidalia onion, sliced
1 sweet red pepper, seeded and sliced
2 cloves garlic, minced
1 tsp (5 mL) lemon juice
Pinch salt
Grindings of black pepper
1. Coarsely chop spinach. Slice bacon crosswise into lardons about ¼-inch (5-mm) thick. Scatter in a very large frying pan or wide saucepan. Cook over medium heat, stirring frequently until golden and crisp. Remove bacon bits to a paper towel. Pour off all but about 1 tablespoon (15 mL) of fat. Add onion, red pepper and garlic; sauté for a minute or 2, stirring occasionally.

2. Add as much spinach as possible, then cover (there may be such a heap that the cover just sits on top of leaves). After a minute, remove cover and turn spinach, bottom-side up. Add remaining spinach. Replace cover for another minute; then turn spinach again. Leave cover off once spinach has released some liquid. Cook 3 to 4 minutes or just until completely wilted, season with lemon juice, salt and several grindings of black pepper. Serve right away scattered with crisp bacon bits.
SHARE