Spinach and Sorrel Compote
Printemps 2011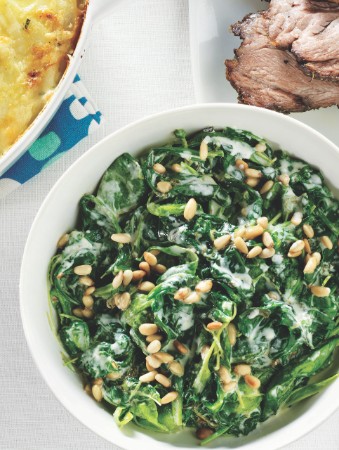 Spinach and Sorrel Compote
Printemps 2011
BY: Lucy Waverman
Sorrel mixed with spinach is a perfect dish of greens. The sorrel adds a lemony touch and sparks the spinach taste to a different level. If sorrel is unavailable then use all spinach.
¼ cup (50 mL) butter
8 cups (2 L) packed spinach
4 cups (1 L) packed sorrel
¼ cup (50 mL) ricotta
¼ cup (50 mL) whipping cream
¼ tsp (1 mL) hot pepper flakes
Salt and freshly ground pepper
⅓ cup (75 mL) toasted pine nuts
1 Heat butter in a large skillet over medium heat. Add spinach and sorrel to skillet in batches and cook, tossing with tongs, for 2 minutes or until all greens are wilted. Stir in ricotta, cream and hot pepper flakes. Bring to boil and cook for 2 minutes, stirring, or until cream just coats the leaves. Season with salt and pepper to taste. Fold in half of pine nuts, transfer to a serving dish, and garnish with remaining pine nuts.
SHARE