Spinach and Bacon-Stuffed Pork Loin with White Wine and Rosemary Cream Sauce
Autumn 2002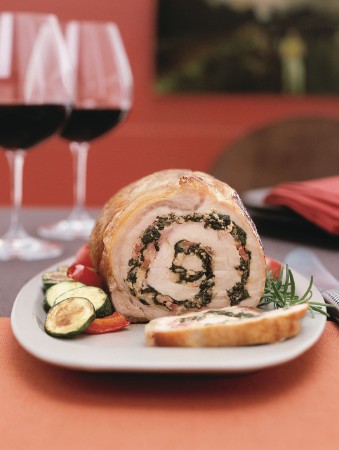 Spinach and Bacon-Stuffed Pork Loin with White Wine and Rosemary Cream Sauce
Autumn 2002
BY: Jennifer MacKenzie
Impress your guests with this attractive spiral-stuffed roast. The stuffing is light and delicious and the delicate cream sauce is an elegant alternative to gravy. Roast baby potatoes along with the pork and serve sautéed zucchini and sweet red peppers to complete the meal. Butterflying the roast is quite easy, but to save time have the butcher do it for you. A centre-cut roast works best for this recipe.
Roast
6 slices side bacon or pancetta, chopped
2 shallots, finely chopped
2 cloves garlic, minced
1/4 cup (50 mL) dry white wine
1 pkg (10 oz/300g) spinach, trimmed
1 cup (250 mL) fresh bread crumbs
3 to 4 lb (1.5 to 2 kg) boneless pork single loin roast
1/2 tsp (2 mL) salt
1/4 tsp (1 mL) freshly ground black pepper

White Wine and Rosemary Cream Sauce
2 shallots, finely chopped
1 tsp (5 mL) finely minced fresh rosemary
1/2 cup (125 mL) dry white wine
1 cup (250 mL) whipping cream
Salt and freshly ground black pepper


1. Preheat oven to 325°F (160°C).

2. In a large frying pan over medium-high heat, fry bacon until crisp. Drain off fat. Reduce heat to medium and add shallots and garlic. Sauté for 1 minute or until translucent. Add wine and spinach and sauté just until wilted. Transfer to bowl and let cool completely. Stir in bread crumbs.

3. Meanwhile, place pork on board with fat-side up. Starting at right side and knife parallel with board, cut pork in half, almost but not all the way to left side, to butterfly. Open up loin so it lies nearly flat in one layer. Pat flat. Starting in the centre of opened loin and knife parallel with board, cut in half on the left side to butterfly again, almost but not all the way to the end. Butterfly again on the right hand side. Lay open. It will unfold like a fold-out section in a magazine, with four segments. Lightly pound with a meat mallet to make even thickness. Sprinkle both sides of pork with salt and pepper.

4. Spread cooled spinach mixture evenly over cut side of pork, leaving about 1 inch (2.5 cm) at one short side bare. Starting opposite bare edge, tightly roll up jelly-roll style and tie with kitchen string. Heat clean frying pan over high heat until hot. Add roast, fat-side down, then sear on all sides. Place in roasting pan; set frying pan aside. Roast the pork uncovered for 50 minutes or until meat thermometer reads 155° to 160°F (68° to 70°C) and a hint of pink remains in pork. Place on cutting board and tent with foil. Let stand for 10 minutes before slicing.

5. To make sauce, heat reserved frying pan over medium heat. Add any juices from roasting pan and bring to a boil. Add shallots and rosemary and sauté for 2 minutes or until soft. Add wine and bring to a boil, stirring. Boil until wine is reduced by half. Add cream and boil until slightly reduced and thickened. Season with salt and pepper. Serve slices of roast drizzled with sauce.
SHARE