Spinach Salad with Stuffed Mushrooms
Autumn 2005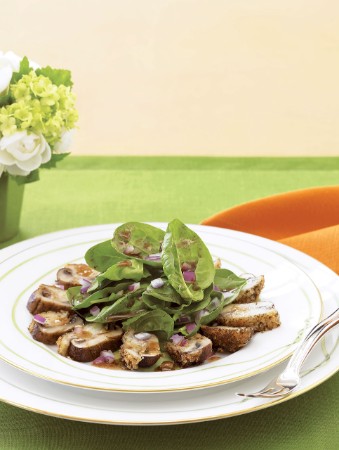 Spinach Salad with Stuffed Mushrooms
Autumn 2005
BY: Lucy Waverman
Scallop stuffed mushrooms are the highlight of this exciting salad. They could be served alone as an hors-d'oeuvre or as a garnish around a grilled fish. If ground seaweed is not available you can grind up nori sheets in a coffee grinder or omit altogether.
Mushrooms
12 large cremini mushrooms, stems removed
12 oz (375 g) scallops, cut in chunks
2 tbsp (25 mL) sake
1 egg, beaten
1 tsp (5 mL) grated lime rind
1 tbsp (15 mL) light soy sauce
Salt and freshly ground white pepper
2 tbsp (25 mL) cornstarch
1 tsp (5 mL) sugar
¼ cup (50 mL) ground seaweed
¼ cup (50 mL) panko crumbs
3 tbsp (45 mL) vegetable oil

Salad
6 cups (1.5 L) baby spinach
½ cup (125 mL) finely chopped red onions

Dressing
1 tbsp (15 mL) seasoned rice vinegar
1 tbsp (15 mL) soy sauce
2 tbsp (25 mL) vegetable oil
1. Score the tops of mushrooms with a knife in a cross-hatch pattern. Place scallops, sake, egg, grated lime rind, soy sauce, salt, pepper,
cornstarch and sugar in food processor. Process until mixture is smooth.

2. Fill mushroom caps with about 2 tbsp (25 mL) paste, rounding it very slightly in the centre.

3. Combine seaweed and panko. Press mushrooms, paste-side down, firmly into mixture, making sure the whole top is coated. Reserve.

4. Preheat oven to 400ºF (200ºC).

5. Heat an ovenproof skillet on medium heat and add oil. Fry mushrooms, coated-side down, for 30 seconds or until coating is golden. Turn over and place skillet in oven. Bake for 5 minutes or until mushrooms are tender.

6. Combine spinach and red onions. Whisk together rice vinegar, soy and oil. Toss with salad.

7. Slice mushrooms into 3 or 4 slices each. Place in a circle on plate. Top with a twist of spinach salad.
SHARE