Spinach Salad with Fresh Cranberry Vinaigrette and Manchego
Temps des Fêtes 2009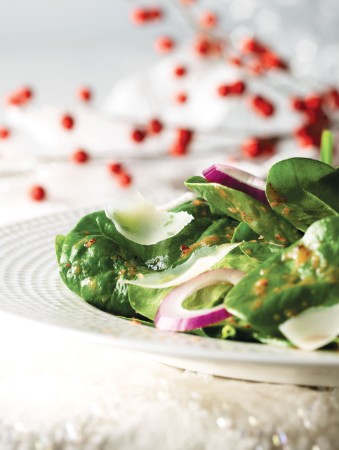 Spinach Salad with Fresh Cranberry Vinaigrette and Manchego
Temps des Fêtes 2009
BY: Marilyn Bentz-Crowley
Fruity cranberries flavour this delicious vinaigrette that has become a refrigerator staple in my home. For a light entrée, top salad with cooked turkey or chicken and serve with whole-grain bread.
¼ cup (50 mL) olive oil
1 tbsp (15 mL) white-wine vinegar
2 tbsp (25 mL) orange juice
¼ cup (50 mL) fresh cranberries
1 tbsp (15 mL) granulated sugar
¼ tsp (1 mL) Dijon mustard
⅛ tsp (0.5 mL) salt
⅛ tsp (0.5 mL) freshly ground black pepper
8 cups (2 L) lightly packed baby spinach
Several thin slices of red onion
⅓ cup (75 mL) shaved Manchego or Parmesan cheese
1. In a blender, whirl oil, vinegar, orange juice, cranberries, sugar, Dijon, salt and pepper until smoothly puréed. Cover and refrigerate for up to several days; stir before using.

2. Place spinach into a large salad bowl. Pour half of dressing over spinach; toss. Then add more dressing to taste. Separate onion slices into rings; scatter along with cheese over top.Serve right away.
SHARE