Spinach & Orzo Salad
Summer 2010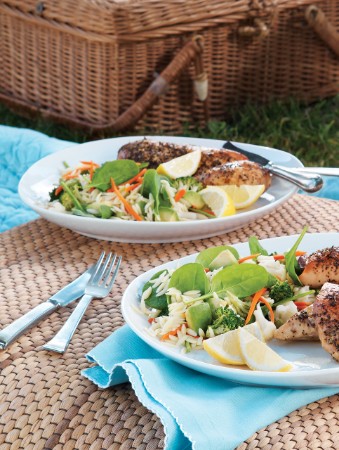 Spinach & Orzo Salad
Summer 2010
BY: Marilyn Bentz-Crowley
This salad quite deliciously blurs the boundaries between a pasta salad and a green salad. Fresh garlic adds a fine flavour; for a mild taste use a single clove or for a strong hit use both.
3 to 4 cups (750 mL to 1 L) assorted fresh vegetables such as shelled sweet peas, tiny broccoli or cauliflower florets, or julienned carrot
½ large lime
8 oz (250 g) orzo pasta, about
a heaping 1 cup (250 mL plus)
1 tbsp (15 mL) olive oil
1 to 2 large cloves garlic, minced
¼ tsp (1 mL) hot red pepper (chili) flakes
⅔ cup (150 mL) vegetable or chicken broth
¼ cup (50 mL) dry white wine
Pinches of salt, optional
1 firm-but-ripe avocado, cut into thin slices
4 cups (1 L) lightly packed baby spinach
Several halved tiny tomatoes or
sweet red pepper rings (optional)
1. As needed, cut and measure vegetables. Zest and juice the lime. Set zest and juice aside separately. (Cover and refrigerate juice if making ahead.)

2. Bring a large pot of salted water to a boil; add orzo. Boil 7 minutes; add cut vegetables for an additional minute of cooking. Drain; place while warm in a large bowl.
3. Meanwhile, heat oil in a large frying pan over medium heat. Add garlic and red pepper flakes; cook 1 minute. Add broth mixed with wine; increase heat to medium-high to boil rapidly about 4 minutes or until about half of liquid is gone. Remove from heat; stir in zest.

4. Pour broth over pasta and cut vegetables. Toss; cool to room temperature. Taste and add pinches of salt if needed. (If making ahead, cover and refrigerate for up to half a day.)

5. When ready to serve, thinly slice or dice avocado; toss with lime juice. Add spinach to orzo mixture and toss. Add avocado and toss again. Garnish with tomatoes or red pepper.
SHARE