Spicy Yuzu-Miso Lobster-Noodles
Holiday 2017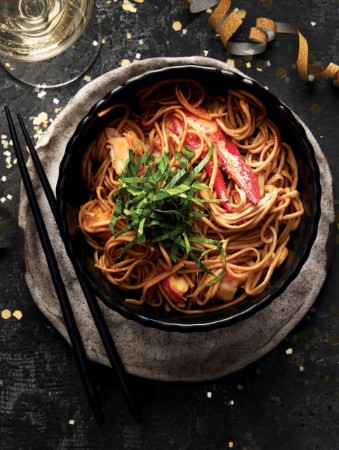 Spicy Yuzu-Miso Lobster-Noodles
Holiday 2017
BY: Victoria Walsh
These light, refreshing and zingy noodles can be made ahead. That way, you've got a snack ready-to-go for after you've rung in the New Year. Simply pull them straight from the fridge and slurp away!
⅓ cup (80 mL) white miso paste
¼ cup (60 mL) yuzu
¼ cup (60 mL) mirin
1 red Thai chili pepper, finely chopped
1 tbsp (15 mL) soy sauce
1 pkg (300 g) soba buckwheat noodles or 1 lb (500 g) spaghetti
1½ lbs (750 g) cooked lobster, shelled and cut into chunks, leaving claws intact
4 basil or shiso leaves, finely shredded, for garnishing (optional)
1. Stir miso, yuzu, mirin, chili and soy in a large bowl. If making ahead, dressing will keep well, covered and refrigerated for up to 2 days.

2. Bring a large pot of water to a boil. When boiling, add noodles. Cook, stirring occasionally, until cooked but still al dente, 3 to 4 minutes for soba or 8 to 10 for spaghetti. Drain and rinse well with cold water. If making ahead, cover and refrigerate noodles for up to 12 hours.

3. Just before serving, toss noodles with dressing; add lobster. Stir to coat. Divide between bowls, sprinkle with basil and serve.
SHARE