Spicy Veggie Burgers with Crushed Avocado & Pickled Beets
Spring 2018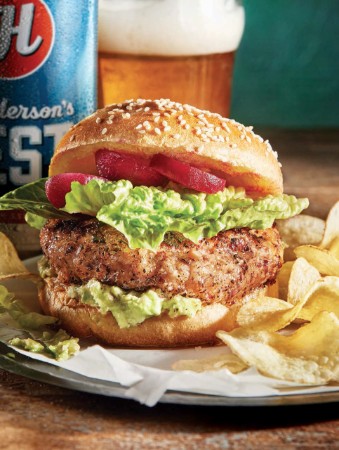 Spicy Veggie Burgers with Crushed Avocado & Pickled Beets
Spring 2018
BY: Eric Vellend
Nutty, chewy and packed with umami, this meat-free patty takes the veggie burger from a consolation prize to a special treat. Soft buns are essential here—the patties are delicate and will squish out the sides if the bread is too dense. Textured vegetable protein (TVP) flakes are made from soy flour and can usually be found at supermarkets that carry Bob's Red Mill products or at natural food stores.
PATTIES
1 can (540 mL) red kidney beans
1 cup (250 mL) roasted cashews
1 cup (250 mL) TVP flakes
1 cup (250 mL) mushroom or vegetable broth, seasoned
1 tbsp (15 mL) vegetable oil
2 cups (500 mL) finely chopped onions (about 2 large)
3 cloves garlic, minced
1½ tbsp (22 mL) tomato paste
Salt and freshly ground pepper to taste
1 large egg
2 tbsp (30 mL) miso (white or red)
1 tbsp (15 mL) sriracha sauce, or more to taste
¼ cup (60 mL) soft cream cheese (not low fat)
½ cup (125 mL) panko bread crumbs
2 tbsp (30 mL) finely chopped shallot
2 tbsp (30 mL) fresh lemon juice
2 small or 1½ regular ripe avocadoes
Salt and freshly ground pepper to taste
6 tbsp (90 mL) vegetable oil, divided
6 soft sesame-seed buns
6 romaine leaves trimmed to fit buns
Sliced pickled beets, drained
1. For the patties, preheat oven to 350°F (180°C).

2. Drain and rinse beans. Pat dry with paper towel and place on a parchment-lined baking sheet. Bake until beans have split and skins are crispy, 15 to 17 minutes. Cool completely. Transfer to food processor. Pulse briefly just to break them up a little. Transfer to bowl. Add cashews to food processor. Pulse in quick bursts until coarsely chopped. Add to bowl with beans. Set aside.

3. Place TVP in a heatproof bowl. Bring stock to a boil in a small saucepan. Pour over TVP. Soak 5 minutes. Fluff with fork. Transfer to baking tray to cool.

4. In a medium nonstick frying pan, heat oil over medium heat. Add onion. Cook, stirring occasionally, until soft and golden, about 15 minutes. Add garlic. Cook 2 minutes. Add tomato paste. Cook, stirring often, 2 minutes. Season with salt and pepper. Transfer to baking tray with TVP to cool.

5. In a large mixing bowl, whisk egg, miso and sriracha until smooth. Add beans, cashews, TVP, onion mixture, cream cheese and panko. Stir with spatula until well combined. Season with salt, if necessary, and pepper. Divide into 6 equal portions—roughly ⅔ cup (150 mL) packed. Form into patties to fit buns. Cover and refrigerate at least 4 hours and up to 2 days.

6. Place shallot and lemon juice in a medium bowl. Let sit 15 minutes. Peel and seed avocado. Transfer flesh to bowl with shallot mixture. Season with salt and pepper. Roughly mash with fork or potato masher.

7. Heat 2 large nonstick frying pans over medium heat. Add 3 tbsp (45 mL) oil to each pan. Cook 3 burgers in each pan, flipping carefully, until nicely browned and heated through, about 5 minutes per side.

8. While patties are cooking, preheat broiler to high. Place buns, cut-side up, on a heavy-duty baking tray. Broil on top rack until browned, 1 to 1½ minutes.

9. Smear bun bottoms generously with crushed avocado. Top with patties, romaine and pickled beets. Cover with bun tops and serve immediately.
SHARE