Spicy Shrimp and Snow Pea Stir-Fry
Spring 2005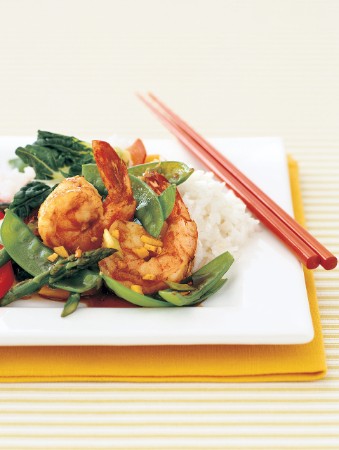 Spicy Shrimp and Snow Pea Stir-Fry
Spring 2005
BY: Heather Trim
Colourful, flavourful and nutritious - a perfect springtime stir-fry. Cooking times are approximate: the vegetables should be cooked but still have some bite.
10 asparagus spears
2 oz (60 g) snow peas, about 1 handful
4 baby bok choy or 1 small regular bok choy
1 yellow or red pepper
2 carrots
½ lb (250 g) medium or large shrimp
1 tbsp (15 mL) vegetable oil
2 tbsp (25 mL) finely chopped peeled ginger
Dressing Recipe (follows)
2 tbsp (25 mL) oyster sauce
2 green onions, thinly sliced diagonally
1. Snap off tough ends from asparagus, then slice spears diagonally into large bite-sized pieces. Snip ends from snow peas and remove strings, then diagonally slice in half. Rinse bok choy well to get rid of grit, then slice off tough ends. Slice baby bok choy lengthwise or slice regular bok choy into 1½-inch (4-cm) pieces. Slice yellow pepper into thin julienne strips and thinly slice carrots diagonally. Peel and devein shrimp. If using large shrimp, slice in half lengthwise.

2. Heat oil in a large deep frying pan or wok over medium-high heat. Add shrimp, stir-fry until barely pink, 1 to 2 minutes. Remove shrimp from pan. Add asparagus, carrots, ginger and 2 tbsp (25 mL) water. Stir-fry 2 minutes.

3. Stir in bok choy, yellow pepper and shrimp, then add salad dressing (recipe below) and oyster sauce. Stir-fry 2 minutes. Stir in snow peas and green onion and stir-fry 1 minute. Add more chili sauce to taste. Serve over steamed rice or Asian noodles.

Dressing
2 tbsp (25 mL) soy sauce
2 tbsp (25 mL) lemon juice
1 tbsp (15 mL) dark sesame oil
2½ tsp (12 mL) granulated sugar
1 tbsp (15 mL) Chinese chili sauce, or to taste
To prepare dressing, whisk soy sauce with lemon juice, sesame oil, and sugar, making sure sugar is dissolved. Add Chinese chili sauce.
SHARE