Spicy Sausage, Pepper & Feta Cakes
Summer 2021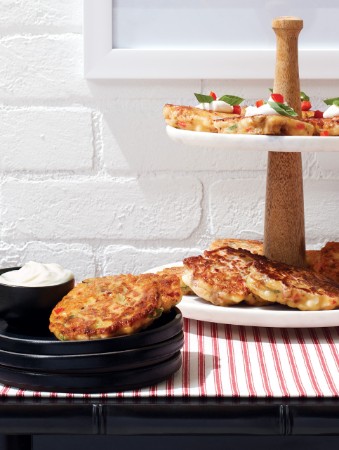 Spicy Sausage, Pepper & Feta Cakes
Summer 2021
BY: Monda Rosenberg
These three-bite cuties let the spicy sausage and creamy feta flavours shine through. Smoked paprika in the batter assures a hot, tingling vibe. They're good keepers too, so make ahead as you like. Dress up with a swirl of sour cream and sliced green onions, slivered red pepper or a hot pepper relish. For the dippers in your group, add our easy Maple-Mustard Cream (recipe follows).
7 oz (200 g) hot Italian sausage, about 2 large sausages
Canola oil for skillet and frying
4 oz (115 g) Greek feta (see TIP)
1/2 cup (125 mL) finely chopped red pepper
1/4 cup (60 mL) thinly sliced green onion, green parts only
2 eggs
1/2 cup (125 mL) milk
1 cup (250 mL) all-purpose flour
1 tsp (5 mL) smoked paprika
1/2 tsp (2 mL) salt
1. Remove casings from sausages and place sausage meat in an oiled skillet. Flatten to about 1/4-inch (5-mm) thickness. Place over medium heat. Cook until no trace of pink remains about 2 minutes a side. You do not want to brown and toughen it.

2. Remove to a chopping board. Finely chop into about 1/4-inch (5-mm) dice. It should measure about 1 cup (250 mL). Place in a large bowl.

3. Crumble the feta into pea-size pieces. It should measure about 1 cup (250 mL). Add to sausage, along with red pepper and onion, and toss to evenly distribute.

4. In a medium-size bowl, whisk together eggs and milk. In another bowl, stir flour with paprika and salt. Gradually whisk flour mixture into egg mixture just until no large lumps remain. Pour over the sausage mixture and stir with a spatula until mixed.

5. Generously oil a medium-size skillet and place it over medium heat. When hot, scoop up 1 rounded tbsp (25 mL) of batter. Drop into hot oil and gently spread to form a cake about 2 inches (5 cm) in diameter. Don't flatten. Repeat with 3 more cakes. Cook until underside is golden brown, 1 1/2 to 2 1/2 minutes a side. Turn using a firm spatula. Remove to a baking sheet or platter, and keep warm. Repeat with remaining batter, adding more oil to the pan when needed. Stir remaining batter from time to time.

6. Serve right away or refrigerate, covered, for up to 2 days. Serve at room temperature, or warm cold cakes in a 350°F (177°C) oven for 5 minutes.
MAPLE-MUSTARD CREAM
Blend 1 tbsp (15 mL) Dijon mustard with 1 tbsp (15 mL) maple syrup or honey. Whisk in 1/2 cup (125 mL) sour cream. If making ahead, refrigerate, covered, for up to 2 days.

TIP Do not buy crumbled feta for this recipe. It's best to purchase a piece of creamy Greek feta and crumble it yourself.
SHARE