Spicy Red Curried Beef with Spinach
Holiday 2013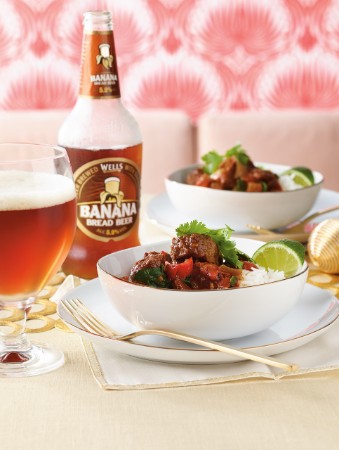 Spicy Red Curried Beef with Spinach
Holiday 2013
BY: Tonia Wilson-Vuksanovic
Adding the cilantro and spinach just before serving will keep their flavour and colour bright and fresh. Serve the beef alongside some lime-scented, steamed rice and grilled flatbread.
2 tbsp (30 mL) vegetable oil, plus more if needed
2 lbs (1 kg) stewing beef, preferably well-marbled
Salt and pepper to taste
2 cups (500 mL) onion, coarsely chopped
2 cups (500 mL) red pepper, coarsely chopped
2 tbsp (30 mL) fresh ginger, peeled and finely chopped
2 tbsp (30 mL) garlic, finely chopped
2 tbsp (30 mL) red curry paste, or more if extra-spicy is desired
1 cup (250 mL) coconut milk (light or regular)
1 ripe banana, lightly mashed
3 cups (750 mL) fresh spinach
½ cup (125 mL) fresh cilantro, coarsely chopped
1 In a large pot or Dutch oven, heat 1 tbsp (15 mL) oil over medium-high. Season beef with salt and pepper and add half of the beef to the pot. Brown well on all sides, about 8 minutes. Remove beef and set aside; the second half will be cooked after the vegetables.

2 Add onion, pepper, ginger, garlic and a pinch of salt to pot. Over medium heat, cook for 5 minutes. Add more oil if needed. Place vegetables aside with beef.

3 Add remaining oil to pot and brown the second half of the beef, about 8 minutes. Place all beef and cooked vegetables in pot along with red curry paste. Pour enough cold water in pot to just come to the top of the mixture. Cover, bring to boil then lower heat to medium-low and cook for 1½ to 2 hours, or until beef is tender. Check periodically to see if all the liquid has reduced. If so, add additional water to prevent burning.

4 Add coconut milk and banana, bring to boil and reduce liquid to sauce consistency.

5 Just before serving, stir in spinach and cilantro and season to taste if necessary.
SHARE